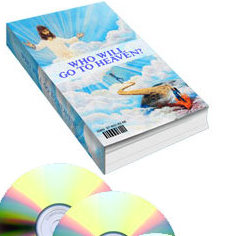 "Comforting to read the difficult passages, not explained away, but clarified in terms my wife and I can understand. The bible now makes more sense to us"
(PRWEB) March 20, 2012
Are you aware that Jesus declared that 'many' believers will not enter His kingdom? Jesus said, "I will tell them plainly, I never knew you." Do you know how Jesus replied when asked why He intended not to show Himself to the whole world? Did you know that Jesus declared that those entrusted with the understanding of the Master's will are much more accountable for living it out than those with no understanding? Click here to watch the book video.
These are just a few of the lessons that form the cornerstone of His ministry. These concisely written and repeated teachings in the bible are not understood by many, while other long-time churchgoers are completely ignorant as to their existence.
The newly released book Who Will Go To Heaven contains 22 chapters, covering such topics as: why God hides His face from us, why we have the poor, why God reveals Himself to chosen people, what it means to be called, how all can serve God's purpose, how grace, works, belief and love are all in perfect harmony within the bible, can we lose our salvation, and much more.
In many ways the church has strayed from Jesus' core teachings which were reinforced by His disciples before and after His resurrection. Even though there is no intent to mislead, today's leadership, commissioned with reinforcing God's written word, has become more proficient at explaining many of the scriptures away.
We have to ignore, gloss over and/or cherry pick most of the New Testament to arrive at the simplistic teaching of 'believe and be promised heaven.' The gospel of Luke chapter 24 tells us that all the apostles had doubts in their minds as the risen Christ appeared before them. The closing chapter of Matthew informs us that some of the apostles continued to have doubts, yet Jesus did not cast them out but sent them to baptize and teach the world to obey all He commanded. In contrast today, people are told that Jesus requires a confession of belief and nothing more as assurance of their salvation.
Who Will Go To Heaven is not a book of opinions, theories or secret codes but an explanation of scripture in full context. Join us in the one bible truth, the hope of one unified church and learn why Jesus will say to many, "I never knew you!"
The newly released book Who Will Go To Heaven is 142 pages, with original illustrations in all 22 chapters. The book is available in soft cover, 4 CD set, and online e-book and audio download formats. Available now at the website store.
Buy the e-book or audio book download today for just $3.00 Enter the store, click the e-book or audio book product option, which will take you to the secure site, where you click on 'Buy Now' and enter promotional code 123789 to receive the discounted price.
Visit the website for free audio-visual summaries of each chapter, blog, comment section and much more. Join our new Facebook group where we address the challenging scriptures and invite your friends.