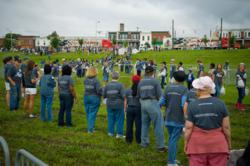 Springfield, Missouri (PRWEB) March 15, 2012
In partnership with National Football League (NFL) players and the Ed Block Courage Award Foundation, Convoy of Hope recently held a community outreach event for inner-city children in Baltimore, Md., complete with free food, haircuts, school supplies and portraits with NFL players.
"When you see a Convoy of Hope truck pull up to an event like this, it's an emblem of hope," says Steve Smith, wide receiver for the Carolina Panthers. "I see today as a call to action. It's an honor to serve with Convoy of Hope and Samaritan's Feet. I get to give back and I expect nothing in return."
Convoy of Hope left several pallets of food at Baltimore's Chick Webb Recreation Center to be handed out to families in need. "This food will feed so many families, said Tracey Estep, manager at Chick Webb Recreation Center. "We delivered the food to families in nearby housing projects and the looks on their faces was pure gratification. We appreciate Convoy of Hope for helping people in Baltimore."
This outreach is a snapshot of "The Convoy of Hope," a 50-state tour that will launch May 12 in Dallas, Texas.
"Our goal was to give all the students some much needed supplies and a little bit of hope and I believe we did that having served more than 200 youth and their families," said Michael Redmon, vice president of Global Initiatives for Convoy of Hope.
Here is what others are saying, courtesy WBAL TV: http://www.wbaltv.com/r/30663479/detail.html
Jeff Nene Convoy of Hope / Senior Director/Public Relations -- Public Relations Officer
O-417.823.8998 Ext. 360
C-417.860.2196
jnene(at)convoyofhope(dot)org
W-convoyofhope.org
Convoy of Hope, founded in 1994, is a faith-based organization with a driving passion to feed the world through children's feeding initiatives, community outreaches, disaster response and partner resourcing.