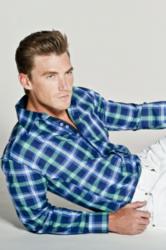 It's important as shirt makers, to show that we understand the markets and trends but mainly we want to remind customers of why they chose Stone Rose in the first place
Miami, FL (PRWEB) March 19, 2012
Fashion is always changing and evolving every season, with brands struggling to stay relevant and ahead of the trend curve. For spring 2012, menswear brand Stone Rose clothing is reinventing their line by launching a basic collection as well as adding pants and blazers. Their new advertising campaign features blonde bombshell Anna Nicole Smith to showcase their re-styled signature mens designer shirts.
Stone Rose has carved out a niche of accessible, affordable but stylish mens dress and casual shirts but for spring 2012, it was time for a change.
"We wanted to have a complete makeover," explains Shai Medalsy, Stone Rose designer and creative director.
"It's important as shirt makers, to show that we understand the markets and trends but mainly we want to remind customers of why they chose Stone Rose in the first place".
The changes that Medalsy refers to include smaller cuffs and collars, in keeping with sleeker silhouettes on runways around the world. Square buttons have been eschewed for round and the overall taste level is elevated, reflecting the cosmopolitan vibe of their home base of Miami, Florida.
Following the success of their men's designer shirts, Stone Rose is now offering their twist on a typical men's white shirt. The focus is on fabric and fit with an affordable price tag. In addition to shirts and polo's, this year also brings pants and blazers into Stone Rose's growing menswear collection. Two kinds of tailor fitted Blazers, with a box-cut silhouette that works for almost any body type at any age. Available in 100% wool and silk, to ensure that men can sport Stone Rose any season. Their signature pants are a "slaight" cut - a combination of slim and straight for a versatile, but easy to wear silhouette.
To kick off the new creative direction Stone Rose launched their "Legends" advertising campaign featuring none other than infamous starlet Anna Nicole Smith as the main model and muse. The blonde beauty will introduce the new modern but timeless side of Stone Rose with her memorable beauty.
Stone Rose Spring 2012 is available now at boutiques worldwide and the new blog on StoneRose.com features the latest advertising campaign that the whole fashion world is talking about.
About Stone Rose:
Stone Rose founded in 2007, Designs mens designer shirts and other variations of mens clothing for the contemporary man, the versatile collections offer vibrant color combinations and high thread count luxury cotton woven shirts and blazers. Cosmopolitan Miami is home to Stone Rose; their menswear is available at Nordstrom and over 350 boutiques across the United States. Their international market presence is constantly expanding with accounts in Canada, Central and South America, the Caribbean, Malaysia, the United Kingdom, Germany and Mexico -visit http://www.stonerose.com.