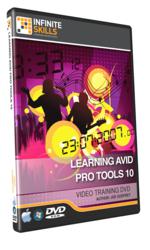 Learn Avid Pro Tools 10
(PRWEB) March 15, 2012
Technology training firm InfiniteSkills Inc. recently released its Avid Pro Tools 10 Tutorial Video, a beginners-focused training video course for the newest version of the industry standard digital audio production software. The Pro Tools training video features 87 video lessons totaling almost nine hours of content, with topics ranging from voice recording and sound effects work to instrument tracking and music production. This new course also features a special workflow section focusing on applying professional audio production techniques to film and video projects.
Users are guided step-by-step through the recording process by expert Joe Godfrey as he uncovers the secrets of Pro Tools functionality. According to InfiniteSkills content coordinator Chris Johns, the course is arranged to make it easy for beginners to learn the program. It may also serve as a reference for experienced users to help solve specific problems.
Author Joe Godfrey, speaking from decades of experience in professional audio production, teaches Pro Tools 10 with a multifaceted approach. Recognizing the wide range of professional roles the program fills, he shows how it can be used by composers, sound designers and musicians alike. Users not only learn the program's basic functionality, but also how to creatively solve problems in Pro Tools.
Beginners Avid Pro Tools 10 Tutorial Video on DVD
Godfrey is a composer, musician, and educator with more than 30 years experience in the music industry, recording and producing for television and the stage. He is currently the director of the Interactive Media Department and the Audio Production Program at the University of California at San Diego, where he has helped hundreds of students through hands-on instruction.
"Joe is the rare mix of creative and practical that puts him in the top tier of his field," says Johns. "Because of his enthusiasm and knowledge, he's the perfect tutor for anyone interested in learning digital recording and production."
The Pro Tools 10 tutorial takes a production-oriented approach, taking users from basic program navigation and simple editing techniques to the advanced effects and mixing capabilities Pro Tools offers. Users learn file and clip management, recording essentials, how to produce music tracks, how to work with MIDI, video-focused sound design, special features such as elastic audio and much more.
InfiniteSkills offers its Avid Pro Tools Training on a Mac and Windows compatible DVD-ROM or as a direct download for a retail price of USD $99.95. All InfiniteSkills tutorial packages include accessible project files that correspond to onscreen examples. Shipping and purchasing options are available on all titles for customers worldwide.
Free demo videos and a full list of course contents can be found on the Avid Pro Tools training page on the company website:
http://www.infiniteskills.com//training/learning-avid-pro-tools-10.html
About InfiniteSkills Inc.
An emerging leader in the field of technology training, InfiniteSkills boasts an innovative, experience-based model for teaching complex technology concepts. The company offers a diverse range of tutorials as DVDs, digital downloads, and in iPad editions, keeping with the company's aim of delivering professional training to customers anywhere they want to learn.