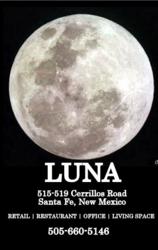 "The location is 2 blocks from the Capitol, the new county courthouse and the Railyard District and four blocks from the plaza," says Joseph. "You couldn't ask for a better or more convenient location in downtown Santa Fe."
Santa Fe, New Mexico (PRWEB) March 15, 2012
Santa Fe's downtown gateway has a new addition with Luna, a green mixed-use development. A fixture on Santa Fe visitor guide SantaFe.com, Luna, located in the downtown area on old Route 66, has designs on starting construction in March of 2012 with a projection completion date of September 2012 for the first phase of the project. The $18 million project is available for leasing now with a target occupancy date of the fall of 2012.
The initial phase will renovate or "recycle" two existing buildings on the property that were formerly a 1930's movie theatre, a DeSoto car dealership and, more recently, a stationery store and night spot Club Luna back in the 1990's. The development plan calls for 60,000 plus square feet of restaurant, retail, office and loft spaces.
The development will include several green elements, such as highly efficient heating and cooling systems, extensive water catchment and reuse and even infrastructure planned for owners to easily install solar panels. Don Wiviott, a consultant for the project states, "We even talked about making the energy consuming components of the project metered to increase awareness among our community members." Luna is named after Club Luna, the downtown nightclub that closed in 1994.
Luna is a collaboration between Ken Joseph, a longtime office space building developer in Santa Fe, his wife Deena and Wiviott, the builder and developer of The Lofts in Santa Fe. The goal for the spaces in Luna in the Santa Fe real estate market is to be very flexible and "market proof", so that units can be converted from hotel-like suites to offices and from offices to retail or vice-versa. Spaces can be purchase or leased with square footage ranging from a high of 9,000 square feet all the way down to 560 square feet. "The location is 2 blocks from the Capitol, the new county courthouse and the Railyard District and four blocks from the plaza," says Joseph. "You couldn't ask for a better or more convenient location in downtown Santa Fe."
About Luna
Luna is a new mixed used walk-able community with 60,000-plus square feet of space available for purchase or lease with a variety of uses available including restaurant, retail, office or live-work lofts. The project is set to start March 2012 with Phase 1 space available for move in projected for September 2012
Contact Information:
Ken Joseph
http://www.LunaSantaFe.com
(505) 660-5146
About SantaFe.com
SantaFe.com provides Santa Fe locals and visitors alike the most current interactive platform for events, music, arts, business, dining and lifestyle. SantaFe.com is a division of Hutton Broadcasting, located at 2502 C. Camino Entrada, Santa Fe, NM 87507
Contact Information:
Scott Hutton
SantaFe.com / Hutton Broadcasting
(505) 471-1067 (Media inquiries only, please)