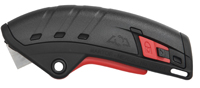 With an ergonomic squeeze-grip that allows it to be used in either hand, the Merak is highly adaptable to different cutting situations
Green Bay, WI (PRWEB) March 22, 2012
Martor USA introduces the Merak from Solingen, Germany. Martor again shows their innovative strength in the field of safe cutting solutions for maximum productivity.
Merak is a handy all-rounder for precise and effortless cutting. GS tested by TÜV, and featuring fully automatic blade retraction (IBR-Technology), this knife is suitable for the cutting of most packaging materials.
Constructed from high-quality plastics formed in an ergonomic and light-weight shape, the Merak enables efficient work practices via its design. A lowering of work-related fatigue and a heightening of company productivity is ensured. In short: impressive efficiency.
Thanks to an optimized cutting depth of 11 mm, risk of damage to contents when cutting open cardboard-boxes and cartons is greatly minimised.
With features such as the revolutionary Ineluctable Blade Retraction (IBR) Technology, the Merak belongs to an elect group of knives with extendable blades that offer maximum protection against cutting injuries.
Engaging the Safety Button protects the user against the blade unintentionally extending. Being able to lock the blade guarantees maximum protection against injury when the knife is either not in use or being carried. In addition, blade change is an easy, quick and safe process, requiring no additional tools or knife dismantlement.
With an ergonomic squeeze-grip that allows it to be used in either hand, the Merak is highly adaptable to different cutting situations. And needless to say, utilization of a quadruple useable blade saves additional time and money. All in all, the Merak is a safe, efficient, handy all-rounder!
About Martor USA
Martor USA, creators of the Megasafe Safety Knife, the blade that keeps safety in mind, have been in the business of supplying tools to industry since 1981. In that year, The Spoilage Cutter Company was incorporated in Wisconsin to sell a patented safety cutter to remove the outside layers of film or paper from a roll. This tool was called the Zepher Model 102. A few years later, a larger tool for the same purpose was developed, the Zepher 105. Then, in the early 90's we started importing several safety tools from the Martor Company in Solingen, Germany for resale to our customers. Because of the increasing demand for these tools and our growing sales of these products here in the U.S., we were awarded exclusive representation status in 1995. Early in 1999, we changed the name of our company to Martor USA, Division of The Spoilage Cutter Co., Inc. due to the further expansion of our sales of this unique line of outstanding products from Martor Solingen.