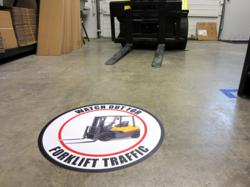 Creative Safety Supply - The Leaders in Visual Safety.
Lake Oswego, OR (PRWEB) March 16, 2012
As Safety and Lean Manufacturing become increasingly important topics in North American Manufacturing and Production Facilities, there has been a heavy focus on Visual Safety and the importance of proper signage around the workplace.
Not only does proper signage help protect employees from potential hazards in your facility, but it also prevents costly fines from OSHA- either of which can end up being extremely expensive and unexpected.
Creative Safety Supply has always been a Leader in Visual Safety, and has taken that to the next level- expanding their Sign department into its own division- now with custom full color high-res CMYK printing abilities on-site. This service compliments Creative Safety Supply's other Lean and Safety-related products such as their industrial floor tapes; SafetyTac, SafetyTac LEAN, and SafetyTac EDGE, and their LabelTac line of industrial label printers.
Creative Safety Supply offers a wide variety of popular floor signs, wall signs, banners, posters, vinyl decals and more, as well as the ability to create custom signage tailored to fit your specific needs at no additional cost. They can integrate custom images, designs or logos into your signs- an easy way to personalize your company's safety program.