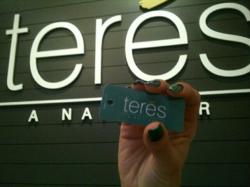 My vision for terés was to create a completely customizable nail experience that does not compromise quality service and value.
Scottsdale, AZ (PRWEB) March 16, 2012
To celebrate the grand opening, terés will host a series of exclusive soft-launch activities and events to promote the anticipated debut. terés | A NAIL BAR is located at 7120 East Indian School Road, Scottsdale, Ariz., 85251.
Pronounced te'rez, terés is Latin for rounded, polished, smooth, fine and elegant. Honoring its Latin meaning, terés combines value-driven, superior service and luxury products, treatments with significant health and wellness benefits. The result is a one-of-a-kind experience delivered in a comfortable and stylish environment.
"My vision for terés was to create a completely customizable nail experience that does not compromise quality service and value," said founder and chief concept officer Courtney Steele. "Our team is committed to providing each guest with the 'terés experience': consistent, superior service, luxurious products and treatments of great value. We look forward to introducing this new concept to Scottsdale."
An a la carte menu of added luxuries will allow each guest to completely customize their terés experience and define their own "level of luxury". Whether it's an express manicure or an indulgent pedicure with limitless luxuries, guests will enjoy an affordable, value-driven experience without having to compromise quality. Additionally, every treatment will provide a specific effect such as cleansing, skin brightening or cell rejuvenation; and benefits including relaxation, stress relief, circulation, improved concentration and more.
terés drew upon the expertise of Suzanne Steele, owner of Crimson Hill Interiors, to design the nail bar's distinct environment. terés features a mix of natural influences, colorful fabrics, bespoke lighting, specially-crafted bamboo wares and apothecary-style displays showcasing signature herbs, scrubs, oils and salts.
The well-designed, stylish and natural environment reflects the overall elements of terés' herbal luxuries and treatments. terés is a destination that allows guests to enjoy a relaxing experience in a chic, decorative yet comfortable setting that promotes health and wellness and encourages guests to embrace quality and value.
Services include manicures and pedicures (includes shaping, trimming, cuticle care, therapeutic massage, hot towel and polish), gel colors and gel extensions. Added luxury treatments (referred to as "luxuries") include herbal scrubs and masks, paraffin wax, extended massages, hot stone, skin brightening serums, age-defying serums, milk bath soaks and more. Seasonal items give terés guests the opportunity to experience new luxuries with each visit.
terés memberships provide the benefit of special reduced pricing on all services. A monthly fee is deducted from a member's checking, savings or credit card account, and members are then credited at the time of service. terés' online scheduling program allows members to schedule appointments 24 hours a day, seven days a week.
ABOUT terés | A NAIL BAR
Founded in 2012, terés | A NAIL BAR is a premier destination for nail services, treatments and products designed to enhance health and well-being. Located in the heart of Old Town Scottsdale, terés is a fulfillment of founder, Courtney Steele's vision to create an entirely customizable and affordable nail experience. An a la carte menu of soaks, scrubs, scents and treatments allows each customer to choose their own level of luxury. terés consistently provides each guest with a completely customizable experience at an affordable price without compromising superior service. For more information about terés| A NAIL BAR, please visit teresnailbar.com or facebook.com/teresnailbar.