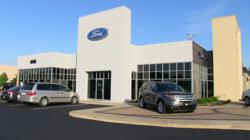 "The Dahl Museum deserves a floor as tough as the Ford name," says Patrick Ilfrey, CEO of Citadel Polyurea Coatings®. "It's truly an honor and a privilege to be a part of Ford history."
Minnesapolis Minnesota (PRWEB) March 16, 2012
When Dahl Ford, one of only five 100-year-old family-owned Ford dealerships in the United States, began building the Dahl Auto Museum in La Crosse, WI, they knew they needed a floor that could live up to that legacy. They needed flooring that would look as great as the cars they display, while lasting just as long. They needed the Citadel Polyurea Coatings® Medici™ Polyurea Colour Coating System.
"The Dahl Museum deserves a floor as tough as the Ford name," says Patrick Ilfrey, CEO of Citadel Polyurea Coatings®. "It's truly an honor and a privilege to be a part of Ford history."
Bare concrete or a solid-color floor would never have brought the Dahl Auto Museum the elegant look that such an iconic collection of American history deserved. The Medici™ Polyurea Colour Coating System is capable of applying two colors at once in a unique pattern to produce a natural appearance with minimal effort, providing an elegant look simulating marble, slate or any stone that outshines any vinyl flooring option. The end result was a perfect blend of contrast, a floor that was beautiful enough to accentuate the historic cars above it without distracting from them.
Looks alone were not enough, of course—it would be pointless to build a tribute to 100 years of history if its floor only lasted a few of them. The Medici™ System not only looks fantastic, but is 20 times more durable and 98% more flexible than epoxy, while its virtually unlimited pot-life and 24 hour return to service make it as convenient as it is tough. Along with the durability and speed, the ultra low VOC's make this ideal for indoor applications.
From the museum's elaborate timeline dating back to Andrew H. Dahl selling Model Ts from his general store, to its recreated drive-in movie theatre with convertibles pulled up to a giant screen playing "American Graffiti", Citadel Polyurea Coatings® couldn't be more proud of this opportunity to help honor one of American history's most iconic symbols.
About Citadel Polyurea Coatings®
Citadel Polyurea Coatings®, a leading manufacturer of polyurea floor coatings, evolved over 40 years from a mid-size installation company into the leader in one-day polyurea floor applications. Headquartered in Minneapolis, MN, they began with foundation and horizontal pre-cast waterproofing, concrete restoration and polishing, as well as steel and bridge deck coatings. Their focus later shifted to engineering advanced polyurea floor coatings.
Citadel's manufacturing division has been developing and applying polyurea coatings for over 25 years on a large variety of substrates. They are widely known for manufacturing and installing polyurea floor coatings everywhere from residential garages to commercial kitchens to warehouse facilities. The collective practice gives Citadel over 65 years of experience in the coating industry.