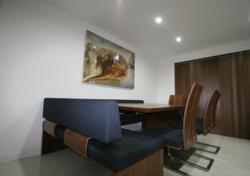 Let the Art Shine...
(PRWEB UK) 17 March 2012
Self-taught artist Gail Knight from Scotland's scenic fishing town Arbroath, known for its World famous 'Arbroath Smokies' has lept onto the Contemporary arts stage with the introduction of her new business and personal quest to put the shine back into modern wall art.
Gail has been producing contemporary boxed canvas oils & acrylic art for over 10 years, but it has only been the last 3 years that Gail's passion for Epoxy Resin and mixed media has tested all of her self taught experience to master and perfect this new form of Modern Art.
"The introduction of Epoxy Resin with mixed media not only generates depth but allows me to stream and fuse my art to form exactly the outcome by which I have a vision! Not only can I manipulate my art but the art itself encapsulates the result within a glass like finish and under varying light conditions allows the observer to appreciate a fresh perspective every time"
Gail sets out with her new web based Resin Art Gallery venture having generated a stir across the Art community and has received welcoming and positive feedback from Artist across the globe via the professional network LinkedIn.
Gail's Resin Art can be applied to boxed canvas of varying sizes at affordable prices which brings a welcome response from both private and commercial Modern Art enthusiasts alike.
Sourcing the majority of materials locally and generating the art pieces from her personal workshop, Gail has a vision to one day open her own locally based Gallery and pour her knowledge back into the area by creating Resin Art lessons.