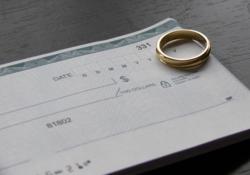 San Diego, California (PRWEB) March 17, 2012
Those with significant assets can all learn a lesson from Kobe Bryant. It is well publicized that Kobe Bryant and his wife, Vanessa are currently going through a divorce. It is also well known that there is no prenuptial agreement protecting any of the community assets or income acquired during the marriage or limiting the amount of alimony that Kobe may have to pay. It is estimated that close to $300 million in assets are up for division as part of this divorce and that Kobe has earnings in endorsements alone of nearly $25 million per year. A valid and enforceable California prenuptial agreement would have solidified the financial terms of the split. Instead, unless the Bryants settle their case with a martial settlement agreement or reconcile, Kobe Bryant could be looking at a financial nightmare in the months to come.
California divorce law is very clear when it comes to the division of assets and debts. Everything acquired from the date of marriage until the date of separation is divided evenly--end of story. This is of course unless there was a valid and enforceable prenuptial agreement (prenup) or postnuptial agreement (post nup). Prenups and postnups can change the legal characterization of property from "community property" to "separate property" and aviod the division of earnings and/or assets acquired by either party during the marriage. These agreements must be drafted with care and by a divorce lawyer that knows and understands the law including the requirements and the limitations of a valid and enforceable agreement. If a prenup does not include the right language or if it includes an illegal provision, then it may not be worth the paper that it is printed on let alone the attorney's fees paid to draft it.
What can a Prenuptial Agreement Do?
A prenuptial agreement can include provisions that provide that the earnings and assets of each spouse acquired during the marriage remain the separate property of the earning spouse. It can provide that any businesses started during the marriage be deemed the separate business of either spouse. It can provide that the marital community cannot acquire an interest in any business or asset brought into the marriage by the other spouse. It can also provide that any debts acquired independently by either spouse be deemed the separate debt of the spouse acquiring the debt.
Special Rules Regarding Limitations on Spousal Support
With limitation, a prenup can also limit or terminate any exposure to alimony or spousal support. Spousal support provisions are tricky however, and may not always be enforceable. For instance, if a court finds that a limitation on spousal support is unconscionable, then the court could strike that portion of the prenup. Further, if the party that would be giving up spousal support is not represented by a divorce lawyer at the time of signing the prenup, then the spousal support provision will be invalid.
What Can't a Prenuptial Agreement Do?
A prenup cannot include limitations on child sharing, child visitation, or child custody. A prenup cannot include limitations or regulate in any way a future child support order and cannot restrict either party from seeking a child support modification. A valid prenup cannot punish infidelity by providing consequences against a cheating spouse. California is a "no-fault" State which means that infidelity is generally irrelevant when it comes to a divorce. A valid prenup cannot regulate the religious freedom of either party or the religious upbringing of the children.
For an extensive list of the statutory requirements of a valid California prenuptial agreement see Prenuptial Agreements In California, a blog written by San Diego divorce attorney John Griffith. You can refer to the California Family Code. The validity of prenuptial agreements in California is governed by California Family Code Section 1610 et seq. Family Code Section 1612 gives an exhaustive list of issues that may be covered by a California prenuptial agreement.
Depending on the issues, some divorces can cost tens and even hundreds of thousands of dollars--not to mention the stress. A prenup can help tremendously, but it must be done correctly.
The San Diego divorce lawyers at Griffith & Young have experience drafting valid California prenuptial agreements. Our clients have been happy with our approach to the prenup as well as the efficiency by which we meet their needs.
If you or someone you know is in need of a prenuptial agreement or needs an experienced attorney to review an existing prenup call our office for a free consultation 858-345-1720. Our office is located in Solana Beach, California in North County San Diego. However, we represent clients in need of prenuptial agreements throughout the State of California.