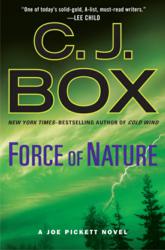 St. Louis, MO (PRWEB) March 19, 2012
The St. Louis County Library Foundation is pleased to present acclaimed crime fiction author C.J. Box for a discussion and signing of his latest thriller "Force of Nature" on Thursday, April 5, at 7:00 p.m. at Library Headquarters, 1640 S. Lindbergh Blvd.
The program is free and open to the public. Books will be available for purchase at the event from Barnes & Noble.
Critics called C. J. Box's 2011 New York Times bestseller "Cold Wind" "marvelous" (Chicago Tribune) and full of "keen insight and dark beauty" (Washington Post). "This engaging series just keeps getting better with each new entry" was Publishers Weekly's evaluation.
At the conclusion of "Cold Wind," storm clouds were threatening Wyoming game warden Joe Pickett and his devoted but mysterious friend, Nate Romanowski. Now, in "Force of Nature," which Publishers Weekly hailed in their starred review as "an especially impressive…superior entry" in the series, those clouds have arrived, in all their deadly intensity.
Nate had never wanted to tell Joe Pickett the entire, ugly story about his past, knowing it could endanger not only Joe but his family as well. But Nate always knew that trouble was coming for him. Now that danger has arrived, full force, and it looks as though it will occasion the battle of Nate's life. And of Joe's as well.
C. J. Box is the New York Times best-selling author of fifteen novels, including 12 in the critically acclaimed mystery series about Joe Pickett. Box won the Edgar Alan Poe Award for Best Novel in 2009 with "Blue Heaven," and he has also won the Anthony Award, Prix Calibre 38 (France), the Macavity Award, the Gumshoe Award, the Barry Award, and the 2010 Mountains & Plains Independent Booksellers Award for Fiction. His books have been translated into 25 languages, and both "Blue Heaven" and "Nowhere to Run" have been optioned for films.
Program sites are accessible. Upon two weeks notice, accommodations will be made
for persons with disabilities. Contact St. Louis County Library by phone 314-994-3300 or visit http://www.slcl.org.