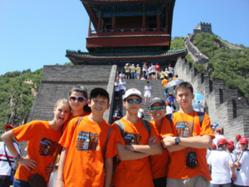 San Jose, CA (PRWEB) March 16, 2012
Sino Language Gateway, an educational program organizer specializing in Chinese language and cultural exchange between China and the U.S., has received the 2011 All Star Award from Constant Contact®, Inc., the trusted marketing advisor to more than half a million small organizations worldwide. Each year, a select group of Constant Contact customers are honored with the All Star Award for their exemplary marketing results. Sino Language Gateway's results ranked among the top 10% of Constant Contact's customer base.
"We're happy to be recognized for achieving strong marketing results. Constant Contact's tools have helped us in many ways to better manage customer relationships and engagement," said Anna Yu, Director of SLG.
Constant Contact customers using any combination of the company's Email Marketing, Event Marketing, and Online Survey tools are eligible for this award. Constant Contact looked at the following criteria to select this year's All Stars:

Frequency of campaigns, events, and surveys
Open, bounce, and click-through rates
Event registration rates
Survey completion rates
Use of social features
Use of mailing list sign-up tools
"It is important that the families out there trust us and trust us 100% because they send their children to us to a program in China, a country that the parents themselves may have never visited or don't know much about," said Yu. "We constantly keep our families updated about everything they need to know, and keep our communication channels open at all times. Constant Contact's e-newsletter is a great tool to help us develop these relationships in the year ahead."
Stacey Morse, a parent once sent her 15 years old daughter Maggie to Sino Language summer program, commented that "we thought your level of contact with us, the parents, at all stages was fantastic. We felt truly informed and up-to-date on everything that was going on. The methodical organization and level of information about what was going on and where the children were at all times, truly allayed any fears we might have had about sending our 15 year old daughter to Beijing. Well done to you all. Maggie had a fabulous experience and is very interested in returning next summer."
About Sino Language Gateway
Sino Language Gateway has been offering a variety of educational programs to children worldwide. Among them, the Chinese (Mandarin) summer camp and the Teen Leadership & Community Service summer camp are the most popular ones. This program combines language learning, culture activities, and traveling altogether; is packed with unlimited exposure to China and Chinese language, and filled with great fun. Thousands of students across the U.S. and more than 22 countries have attended the program since 2003, and their interest towards Chinese language and ability of using the language have been greatly enhanced from their visits to China.