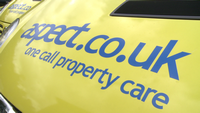 Homeowners should make the most of the milder weather to finish off any niggling jobs.
London, UK (PRWEB) March 16, 2012
Here, leading London-based property maintenance and refurbishment company, aspect.co.uk, provides homeowners with its top tips on looking after their properties.

Observe your roof - stand back and look for missing tiles, check the flashings to the chimney look intact. Check the guttering looks clear with no missing sections. If pebbles, moss and vegetation build up on your roof, then spring and summer are the best time to clear this.
Check the brickwork to make sure it all looks intact and no bricks or mortar are flaking away. Re-pointing masonry is a labour intensive, but necessary job to protect the outside of a property.
Check window sills and drain pipes for rot, or flaking away paintwork. Again, the warmer months are a better time to paint these – when you can make the most of the longer, dryer evenings.
Spring clean your drains from inside and do an external check to ensure there aren't any blockages.
Get an electric check from a qualified electrician to make sure that your property's electrics are safe and in a satisfactory condition.
Get your boiler serviced. Doing this now will make sure it is properly maintained for the year ahead. Or consider upgrading your boiler - some of today's energy efficient boilers can provide up to 30% savings on gas bills.
Save the pennies...replace light bulbs with energy saving light bulbs. Don't forget you can use energy saving light bulbs on side lamps as well as main lights and outdoor lights.
William Davies, managing director at aspect.co.uk, comments: "Homeowners should make the most of the milder weather to finish off any niggling jobs, or to carry out necessary repairs and refurbishments – particularly if they are outdoors. Doing this now may prevent damage from occurring, or more costly repairs being needed in the wetter weeks that are only just around the corner.
"Where a job is more complex, or has an element of danger – such as going up onto a property's roof, we would always recommend calling in an expert to assist."
Notes to editors
About aspect.co.uk
http://www.aspect.co.uk is a leading property maintenance and refurbishment company operating across the domestic and commercial sectors, 24 hours per day. With the tagline – 'one call property care', http://www.aspect.co.uk manages all maintenance issues, from the drains to the roof and everything in between.
The company's motto is 'fix, support and refresh':
o Fix – emergency repairs
o Support – through the company's planned maintenance team
o Refresh – through the company's installation and refurbishment team
aspect.co.uk has a fully-skilled workforce – from versatile handymen to qualified technicians, including gas engineers, plumbers, decorators and drainage specialists. The company has an impressive list of accreditations and sets new, modern, professional and award-winning standards for property maintenance.
The company uses cutting edge technology to enable its workforce and ensure best customer practice, and high levels of performance.
Founded in 2005, aspect.co.uk has grown at over 100% year-on-year. The company is based in South West London, and operates primarily across the city and all areas inside the M25. In July 2011, the company launched its nationwide franchise business - http://www.aspect.co.uk/franchise/.