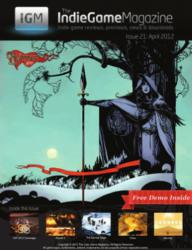 Philadelphia, PA (PRWEB) March 16, 2012
Wilmington, DE, March 16, 2012- The Indie Game Magazine (http://www.indiegamemag.com), the premier source of independent gaming news, reviews and culture, has just released its 21st issue and a brand new iPhone/iPad App that is compatible with Apple's newsstand.
This issue has features an amazing cover designed by Stoic Studio and an interview with the new game studio about their upcoming RPG The Banner Saga. Journey is also finally here! Check out an in-depth interview with the team over at thatgamecompany along with our full review of this artistic game. Other articles include coverage of Casual Connect's Innovation Showcase, an interview with GamersGate, reviews of Shank 2 and Frobisher Says, along with previews of Crow & Pirates of New Horizons. This issue also features an exclusive demo of the RPG Demise - only available to IGM readers! Grab it now at http://www.indiegamemag.com/issue21/ !
In other news, the Indie Game Magazine now manages and curates 8-Bit Funding! 8-Bit Funding just re-launched featuring the Indie Underdog Pack. The Indie Underdog bundle features 6 games for as little as $5! You can learn about this game project and others at http://www.8bitfunding.com.
IGM is available for single purchase as well as via subscription in both print and digital formats, as well as the iPhone and iPad. Our recently updated iPhone app is only $0.99 and features newsstand integration, embedded videos featuring indie game reviews, developer interviews and more. Check it out in the App Store: http://www.bit.ly/igmappns
If you're an Android user, check out our Zinio subscription and App: http://www.zinio.com/indiegamemag/
ABOUT IGM:
Indie Game Magazine (http://www.indiegamemag.com) is the premier source of news and culture for the independent gaming. Started in October 2008 and published bi-monthly by Mike Gnade, IGM has matured into a definitive voice for the indie gaming scene. Combining no-nonsense reviews, in-depth reviews and long-form features with the leading lights of the industry, the magazine, like the games it covers, is independently owned and fiercely independent as it strives to highlight the artists and community behind what it deems the most creative branch of the video gaming universe.
Media Contact:
Mike Gnade
Indie Game Magazine
staff(at)indiegamemag(dot)com
302.766.7955
###