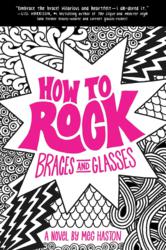 Girls today can be downright mean - not just to each other, but to themselves by being hyper-critical.
Denver, CO (PRWEB) March 16, 2012
The current issue of the new girls' self-esteem magazine, BYOU Be Your Own You, features an exclusive interview with Meg Haston, author of How To Rock Braces and Glasses, the book-turned-new television series How To Rock on Nickelodeon staring teen actress, Cymphonique Miller. Haston spoke with CEO and President of BYOU, Debra Gano, in an exclusive interview and discussed girls' self-esteem and how Kasey Simon, the book's protagonist, is a good example from who we can all learn.
"Often, how we look on the outside feels so important to us – we are told by our society to draw our worth from that. Yet it's not where our worth comes from!" states Haston. "With Kacey, I wanted to show a character who seems so perfect externally, yet internally she is not perfect. Underneath the 'perfect' exterior, she really is just like so many other girls – wanting to belong and with her own inner fears. It wasn't until her outer beauty was diminished (by her and her friends' standards) that she grew as a better person – and that had nothing to do with her looks."
In her book, Haston's main character Kacey Simon undergoes a transformation after she is saddled with braces and glasses and is no longer perceived by her peers as 'perfect'. The fall from grace teaches Kacey to find strength within herself by developing her talents as a musician. "There is so much pressure to do what's popular or 'cool' but if there's something that you're interested in, follow and cultivate that talent," advises Haston.
Haston's book and the new Nickelodeon series come at a vital time for girls, with school bullying and body image issues at all-time highs. "Girls today can be downright mean - not just to each other, but to themselves by being hyper-critical," says Gano, an award-winning author herself of the book Beauty's Secret, A Girl's Discovery of Inner Beauty. "The unrealistic standards of beauty enforced by today's society put tremendous pressure on our vulnerable tweens and teens, often resulting in dangerous consequences."
How To Rock Braces and Glasses is Haston's first book, with a sequel coming out Fall 2012. Her love for writing is paralleled by her passion to deliver a message. "I feel it's important that kids know that how we treat other people will always come back to us, and that it does matter how we treat people!" says Haston. "My dream is that kids treat others kids well, and for all kids to know that they have worth."
The interview reinforces BYOU's mission to build healthy self-esteem in girls, not only via its magazine, but through its positive-messaging products, self-esteem programs, and girls-only social network.
About BYOU Magazine -- Be Your Own You magazine is a new self-esteem magazine for girls ages 7-15, and focuses on building confidence, inner beauty awareness, and making a difference in the world. It features exclusive interviews with today's positive celebrity role models, empowering stories of 'real' girls making a positive impact, and powerful self-esteem tips, projects, quizzes, puzzles and more – all encouraging girls to 'be your own you.' As part of BYOU, LLC, the magazine supports the positive-messaging offered in BYOU's apparel and education for girls.
BYOU Be Your Own You magazine is available at http://www.shopBYOU.com. For more information, visit http://www.beyourownyou.com and http://www.meghaston.com.