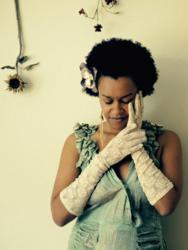 "an artistic giant in the early stages." The San Francisco Chronicle
San Rafael, CA (PRWEB) March 28, 2012
This Singer/Songwriter is not limited to what you hear on her first CD; Meklit Hadero is a TED Senior Fellow, and, as such, will be developing over the next 2 years an immense musical journey down several of the countries of the Nile Treaty in her Nile Project .She has a hip hop album in collaboration with 2 prominent emcees coming out in April known as "Copperwire", and another of duet covers of indie rock hits around the same time.
Constantly busy between touring, recording and planning the Nile Project, her gigs range from San Francisco's classic rock club, The Independent, to a month-long artist residency at NYU while curating weekly shows at Lincoln Center's Atrium; she was a Bumberpick (along with Mavis Staples) at Bumbershoot in Sept. and in October she did a 5 day residency at the International Ringling Festival in Sarasota, FL (curated by Baryshnikov himself), and Misha liked her so much he insisted on presenting her at the Baryshnikov Performing Arts Center in NYC.
General Admission Seating
Advance: $25 public/ $20 mbrs
Day of: $30
7:00 Doors open/No Host Cocktails
General Admission
Cabaret table seating
ABOUT THE VENUE:
Epitomizing the essence of Marin, with a range of authentic cultural experiences enjoyed by many generations, the Osher Marin JCC offers award-winning facilities, including The Kanbar Center, which has established a strong and well respected reputation within the community as a Center for the Performing Arts in Marin County. Originally known as CenterStage, this performing arts department within the Osher Marin JCC has been presenting a stunning lineup of world-class performances from emerging and established performers annually since 1990. Venues include the grand Hoytt Theater, the intimate Kurland Lounge and outdoor venue, Swig Field. Performances offer concessions including cocktails for those 21+ We invite all to come early, get to know each other and celebrate with us. You need not be a member or Jewish to participate in any of our programs.
More Music Coming:
5/19- Swinging Singer Songwriter- Tony DeSare
The Osher Marin JCC
200 N San Pedro Rd.
San Rafael, Ca
415.444.8000
¼ mi East off 101