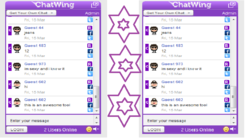 San Francisco, CA (PRWEB) March 16, 2012
Today's Facebook groups are considered as small associations within an inter-connected social network. Everyday, hundreds to thousands of Facebook groups are being created, and many of them become lost in these numbers. Chatwing, realizing this dilemma, has stepped up to provide a natural solution: improved website chat experience.
For starters, Chatwing is a casual or professional chat widget that is made for everyone. It has simple features and mechanics that are easy to understand. Chatwing is a stand-alone program—it doesn't need third-party clients or 'downloadables.' However, users have the option to embed this widget to their blogs. It has been proven that embedding Chatwing has great results for blogs.
Chatwing supports Facebook groups in many ways possible. If the user has a Facebook group, he can make a blog about it. Once that is complete, he can choose to embed Chatwing in his blog. Soft launching of the blog must take place to attract visitors. It is also important to keep in mind that content is king—people don't like blog posts with weak content. The interesting posts will liven up the blog and keep the visitors' happiness. Now, Chatwing opens the gateway for real-time communication. The user can now communicate with his visitors and start talking about his Facebook Group.
The user can also go directly to the Chatwing homepage and join the conversation in the sample widget. The widget is always active and has frequent visitors. However, it is more advisable to have a blog embedded widget for amplified results. Since visitors enjoy free chat experience, the blog's potential will multiply. Adding to that, the invitation chances for the Facebook group adds up.
Another great capability of Chatwing is the social network log-in method. This may seem simple, but it actually boosts any promotional campaign. The user can now exchange Facebook or Twitter information with his visitors. This clearly proves that the Chatwing shoutbox is an official breakthrough.
About Chatwing.com
Chatwing.com has developed live chat software for websites and blogs. The Chatwing.com website offers users the ability to signup and create a customizable live chat feature in 1 minute or less. Users have the ability to customize the size, color, and fonts of the chat product. The ability to chat via social media accounts such as Facebook and Twitter enable Chatwing to offer a personal and unique real-time experience to all sites. Chatwing is 100% free web software.
http://www.chatwing.com