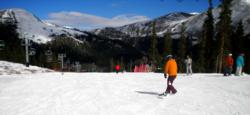 Keystone, CO (PRWEB) March 16, 2012
Nothing beats spring skiing, and Arapahoe Basin knows how to soak up the sun and fun best! With a host of fun events planned for Spring and the new Spring 3-Day Pass, why not spend a few days skiing and soaking up the sunshine?!
The Spring 3-Day Pass is now available for a limited time only and offers 3 days of skiing or riding for the price of 2, at $148. Arapahoe Basin is known to stay open until the snow melts, sometimes that is as late as July 4th, which was the official 2011 closing date at the resort.
Known for it's small town, 'local' feel, Arapahoe Basin offers big-mountain skiing in a laid-back atmosphere without all of the big resort hassles. What has made the resort known as the best apres scene in North America and in the world, is it's legendary 'Beach,' a stretch of snow where the parking lot meets the chair lifts. Visitors can reserve parking spots here and enjoy barbequing, tailgating and sun tanning, mixed in with runs down the mountain. Some come here just for the party and bring extensive setups for their beach days, including lawn chairs, costumes, tunes, BBQ grills, and sometimes even a couch! You never know what you are going to see at this fun spot!
Arapahoe Basin has an extensive spring lineup planned, including plenty of live music and fun events for everyone to enjoy! The May Concert Series, Moonlight Dinner Series, Beach Ball Bash and Festival of Brewpubs are all headliners for their Spring Events Series. Gather up your friends and head to Arapahoe Basin this spring! You won't be disappointed!
SummitCove Vacation Lodging in Keystone is the leading provider of Vacation Lodging for Arapahoe Basin and is now offering $99 a night stays for select 1-bedrooms during the Spring Season, starting April 9th.