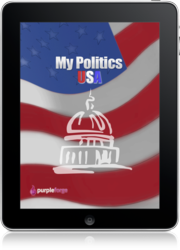 We got the message
I heard it on the airwaves
The politicians
Are now DJ's

- The Politics of Dancing,
Re-Flex
Washington, DC (PRWEB) March 16, 2012
Purple Forge, the leading provider of mobile applications to politicians, governments and municipalities today released MyPolitics USA for the iPad.
MyPolitics USA is a non-partisan, political application that invites users to participate in drawing out the most important issues on the minds of the American public.
The application connects the American public with an expansive set of political, advocacy and government resources.
MyPolitics USA provides an easy to use dashboard that allows users to engage and stay connected to politicians, bloggers, pundits and the 2012 campaign for President.
MyPolitics USA is deeply connected into the social political streams, allowing users to track both politicians and their parties and allowing users to share the commentary with their networks of choice or join in the conversation.
John Craig, social media and mobility columnist for Campaigns & Elections Magazine said "Over 80% of Congress and all Presidential candidates are tweeting. Social and mobile apps will play a critical role in the 2012 election campaign."
The free application is currently available in iTunes.