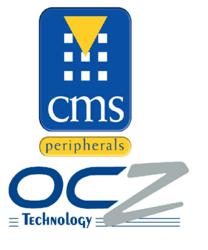 OCZ Technology's SSD and PSU products are of great interest to the resellers in the UK and Ireland
London, United Kingdom (PRWEB UK) 18 March 2012
Just over a month ago CMS Peripherals who are one of the largest independent data storage and security products and solutions distributors in the UK and Ireland announced Solid State Drives Focus Month as part of their partnership with OCZ Technology Group which resulted in a range of cutting edge Solid State Drives and Power Supply Units becoming available to the reseller channel. This has greatly benefited the market which is still recovering from the shortage of Hard Disk Drives as a result of Indonesia floods and allowed CMS Peripherals to demonstrate its strengths as a value added distributor doubling its sales of OCZ Technology's products in the UK and Ireland compared to previous months.
OCZ are known for their wide range of exceptional solid state drives. The following 3 products were first made available by CMS Distribution as part of the partnership agreement: Petrol and Agility SSDs, and Power Supply units. Paul Nevitt, Business Manager at CMS Peripherals states, 'Having the opportunity to sell OCZ Products, including solid state drives and power supply units has been nothing but a pleasure. These products are of great interest to us at CMS Peripherals as we are very passionate about technology and always look forward to projects where we can explore and launch new products; it has also helped us to strengthen the product offering to our customers.'
Today CMS Peripherals announced that the launch of OCZ products in February 2012 has been very successful, with sales training, cross-platform marketing promotions and focus days contributing to quick adoption of the SSD products in the UK and Ireland.
About OCZ Technology
Founded in 2002, San Jose, CA-based OCZ Technology Group, Inc. (OCZ), is a leader in the design, manufacturing, and distribution of high performance and reliable Solid-State Drives (SSDs) and premium computer components. OCZ has built on its expertise in high-speed memory to become a leader in the enterprise and consumer SSD markets, a technology that competes with traditional rotating magnetic hard disk drives (HDDs). SSDs are faster, more reliable, generate less heat and use significantly less power than the HDDs used in the majority of computers today. In addition to SSD technology, OCZ also offers high performance components for computing devices and systems, including enterprise-class power management products as well as leading-edge computer gaming solutions. For more information, please visit: http://www.ocztechnology.com.
About CMS Peripherals Limited
Founded in 1988 CMS Peripherals is the largest independent distributor of data storage and security products and solutions in the UK and Ireland. Real value added service, technical expertise and a customer-centred product proposition have made it a trusted partner for vendors and resellers. For further information on OCZ's SSDs and PSUs please contact us on 020 896 6000 (UK), 094 9374000 (Ireland) or visit http://www.cms-store.com.