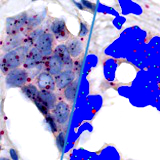 Visiopharm's new Contributor Program offers customers of the APPCenter the ability to earn discounts. A 30% or 50% discount is offered, depending on the type of Contributor a customer become.
Hoersholm, Denmark (PRWEB) March 17, 2012
Visiopharm's rapidly expands their Application Protocol Package (APP) library to over 30 APPs, available now in their patent pending APPCenter. The APPCenter provide customers with easy access to an extensive library of ready-to-run APPs for cancer research, diabetes, neuroscience, respiratory, and much more. Each APP includes detailed descriptions, references to scientific literature, illustrated examples, webinars, and more. There is no need to become an expert in image analysis; APPs are created and validated in collaboration between experts in the field and Visiopharm's application scientists and programmers. Some of the new APPs featured in the APPCenter include:
Ki67+MART1, Double-IHC for Melanoma of Skin:1 This APP automatically detects and quantifies Ki67 positive cells within tumor regions. No manual outlining of the tumor is needed, since the tumor region is automatically identified based on the Ki67/MART1-IHC double staining. The protocol provides the number of positive nuclei within the tumor region as well as the ratio compared to the total number of nuclei within the tumor region.
CD56, IHC, uNK cells within Endometrium for Recurrent Miscarriage:1 Immunohistochemical analysis of endometrial tissue sections has demonstrated increased density of CD56+ CD16- uNK cells in the mid-luteal phase endometrium in women suffering from idiopathic recurrent miscarriage and recurrent implantation failure compared to fertile controls. This APP is designed to work on approx. 3 µm sections of endometrial tissue immunostained with anti-CD56 monoclonal antibody and counterstained with Mayer's haematoxylin. The APP measures the ratio of uNK cells among the stromal cells near the epithelial edge. Cells in the glands and in the epithelial edge itself do not contribute to the calculations.
HER2, SISH for Breast Cancer: 1 The APP is based on the Visiopharm HER2 SISH algorithm, which by automated image analysis determines the HER2 amplification in brightfield digital images of breast cancer tissue sections stained by the INFORM™ HER2 Dual ISH assay from Ventana/Roche. This assay includes the HER2 Silver ISH (SISH) probe resulting in discrete or clustered small black signals, and the centromer 17 Fast Red ISH probe resulting in discrete red signals. The overall ratio of black to red signals constitutes the HER2 gene amplification.
Customers try an APP free of charge, before investing, to make sure that 1) the APP is working according to specifications, 2) the APP provides useful results, and 3) the APP can be understood and operated.
Become a Visiopharm Expert and Earn Discounts
Visiopharm's new Contributor Program offers customers of the APPCenter the ability to earn discounts. A 30% or 50% discount is offered, depending on the type of Contributor a customer become. Our Contributor levels include:

Reference Contributor: When an already available public APP is purchased from the APPCenter, a discount of 30% is given when the customer agrees to become a reference for the APP. Specifically, the customer's name and institution can be listed as a user of the APP.
Co-author Contributor: When a Custom APP is developed, a discount of 50 % is given if the APP can be made public in the APPCenter after the custom development is complete. Co-author Contributors would support the APP being made public by providing example images, and the information necessary to create the description of the APP.
Michael Grunkin PhD, CEO of Visiopharm, stated "Quantitative digital pathology often is a new discipline to life-science researchers; many do not have any previous experience and exposure to this discipline. Our Contributor Program provides a platform where researchers can share their expert knowledge within their respective research fields and earn significant discounts. Contributors will help demonstrate and support how to answer important research questions, in a transparent way, using quantitative digital pathology. The program creates a simple, risk-free way in which other researchers can follow in their footsteps. Our Contributor program was designed to become a valuable resource to the research community, and to encourage and reward the sharing of knowledge, experiences, and visions."
APPs are purchased for a low fixed cost, are yours to keep, and will work with both Visiopharm's Deployed Analysis and their new Cloud Analysis solutions. Custom APPs can be developed upon request, at a fixed known cost, and are also risk free with a complimentary trial. For more information on how to join the Contributor Program please visit Visiopharm's new website at http://www.visiopharm.com or contact Visiopharm's Professional Services department at proservices(at)visiopharm(dot)com.
About Visiopharm
Over the past 10 years, Visiopharm image analysis and stereology software has become the preferred Quantitative Digital Pathology solution for leading biopharmaceutical companies, clinical researchers, and academic researchers all over the world. Visiopharm has more than 300 deployed systems worldwide and a large network of distribution and support partners, and is featured in over 400 scientific publications.
1 For research use only
2 Endometrial cell counts in recurrent miscarriage: a comparison of counting methods, Josephine A Drury, Helena Nik, Robbert H F van Oppenraaij, Ai-Wei Tang, Mark A Turner & Siobhan Quenby, Histopathology 2011, 59, 1156-1162, 4/2 - 2011