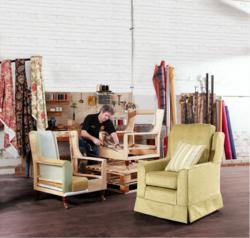 The Fair always has a wonderful buzz about it!
(PRWEB UK) 19 March 2012
Host to over 400 independent designers, small businesses and craftspeople, this year's Spring Fair is set to bring crowds from all over the UK. Offering everything from art, home interiors, gardens, clothing, food and much more, the Country Living Spring Fair promises to have the ingredients for the perfect day out.
Chris Plumb, representing Plumbs as one of this year's returning exhibitors, expresses his excitement for the event:
"We are so looking forward to being a part of the Country Living Spring Fair again. The Fair always has a wonderful buzz about it; we can't wait to see who will be exhibiting this year."
Plumbs, Loose Covers and Re-upholstery specialists, return with a beautifully presented stand stocked with an eclectic mix of fabrics from their current range. Chris Plumb himself will be on hand to help and advise on the benefits of loose covers and re-upholstery.
New to the Plumbs stand this year is their new brand Prestige Re-upholstery. Launched earlier this month, the brand caters for the affluent customer, complete with a stunning selection of branded fabrics from well known British design houses. Also available to view at the Fair, Prestige leather textiles for re-upholstery, never before offered by the 52 year old company.
Authentic re-upholsterer Mick Delaney acts as the centrepiece to the stand for a second year running. As seen in Plumbs recent TV campaign, Mick will be re-upholstering live on the stand each day. No stranger to the limelight, he will also be demonstrating the art of re-upholstery in the Lifestyle Theatre from 3:30pm on 23rd and 24th March.
Other demonstrations and workshops throughout the 5 day event include Craft Workshops from The Stencil Library and Decoration by Design, Business talks from Enterprise Nation and Wine Tasting.
About Plumbs:
Plumbs have around 150 Home Consultants who will visit homes free of charge. The Home Consultants can recommend an appropriate loose covers solution and advise on room colour co-ordination and any other home furnishings such as upholstery, lose covers for sofas, cushion covers and curtains.
Plumbs have over 350 different upholstery fabric designs and colours to choose from, and a range of materials to suit any piece of furniture. Plumbs also run a design blog online focussing on design tips and inspiration.
For further information please contact: Hannah Jones on 01772 838 301 or email hjones(at)plumbs(dot)co(dot)uk