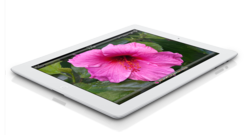 Westminster, Co. (PRWEB) March 16, 2012
Best Skins Ever, the premier online retailer & manufacturer of clear protective skins & screen protectors for electronic devices, announce the release of their line of iPad 3 Skins.
After Apple CEO Tim Cook's March 7 announcement of the tech giant's first product release of 2012, Best Skins Ever prepared for a surge in demand for electronics accessories – like iPad 3 Screen Protectors and full body skins that help prevent scratches and blemishes on electronics.
With immediate demand for the iPad 3 skyrocketing, initial figures predict over 1 millions tablets to sell when the tablet hits stores –partially due to shipping delays caused by booming online sales. In preparation, Best Skins Ever, whose entire catalog is available online, began accepting pre-orders for the much anticipated tablet, even offering free shipping on all iPad 3 skins purchased through the March 16.
Following last year's March release of the iPad 2 – Best Skins Ever saw their best month of the year with revenue in the month of March at 68% higher than their month by month average, along with web traffic which was up 36%.
About Best Skins Ever:
Best Skins Ever, based out of Westminster, Colorado, provides scratch proof protective skins, covers & screen protectors for smart phones, laptops, tablet computers, media devices and more. A company that both manufactures and sells transparent products also believes in doing business transparently.
Their four aspects of being a transparent company rely on their honesty – offering full disclosure on their products, reputation - among their loyal users, price - offering a fair price in their market and ease of use with product tutorials and step-by-step application directions.
###