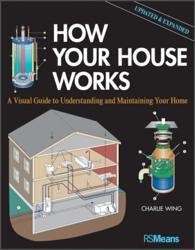 Hoboken, NJ (PRWEB) March 19, 2012
This updated and expanded edition of the best-selling residential guide from RSMeans and Wiley, HOW YOUR HOUSE WORKS: A VISUAL GUIDE TO UNDERSTANDING AND MAINTAINING YOUR HOME, provides consumers with essentially every piece of information they need to understand the dynamics of a home. From plumbing, electrical, wiring, heating and appliances to windows and doors, this guidebook has it all. Written in an easy-to-understand format, this richly illustrated manual is just as visually enticing as its predecessor and contains no shortage of answers for homeowners' trials and tribulations. In HOW YOUR HOUSE WORKS, this revised edition includes considerable additional information such as:
•new chapters related to sustainability and systems outside the house;
•new topics in the areas of clock thermostats, ventless gas heaters, moisture and mold;
•and passive solar heating coverage.
HOW YOUR HOUSE WORKS is essential reading for homeowners, contractors, builders, electricians and real estate professionals.
ABOUT THE AUTHOR:
The author of more than 20 books on home repair and improvement, Charlie Wing is perhaps the most credible house-building teacher in the world. His writing and illustrations make complex home issues understandable. He developed and hosted a national PBS energy conservation series, Housewarming with Charlie Wing. An MIT graduate, he was an editor for Smart Homeowner magazine and served as primary editorial developer for Home Depot's branded book line, 1-2-3 books published by Meredith, including Home Depot's Decorative Painting 1-2-3, Home Depot's Tiling 1-2-3, and Home Depot's Plumbing 1-2-3.
ABOUT JOHN WILEY & SONS, INC.
Founded in 1807, John Wiley & Sons, Inc. has been a valued source of information and understanding for more than 200 years, helping people around the world meet their needs and fulfill their aspirations. Wiley and its acquired companies have published the works of more than 400 Nobel laureates in all categories: Literature, Economics, Physiology or Medicine, Physics, Chemistry, and Peace.
Wiley's core businesses publish scientific, technical, medical, and scholarly journals, encyclopedias, books, and online products and services; professional/trade books, subscription products, training materials, and online applications and Web sites; and educational materials for undergraduate and graduate students and lifelong learners. Wiley's global headquarters are located in Hoboken, New Jersey, with operations in the U.S., Europe, Asia, Canada, and Australia. The Company's Web site can be accessed at http://www.wiley.com.
ABOUT RSMeans
RSMeans, a division of Reed Construction Data and trusted name in construction costs for over 70 years, is North America's foremost source of construction cost information. RSMeans offers industry-acknowledged cost data books, CDs and online publications, a construction reference library of 60-plus titles, national seminars and consulting services—tools to help owners, developers, architects, engineers, and contractors accurately estimate and control construction costs. Visit http://www.rsmeans.com.
HOW YOUR HOUSE WORKS:
A Visual Guide to Understanding and Maintaining Your Home, Second Edition;
Published by John Wiley & Sons, Inc.
Publication date: March 12, 2012;
$22.95; Paperback; 208 pages; ISBN: 978-1-118-09940-7
For a complete list of RSMeans reference books published by Wiley, visit: http://www.wiley.com/go/rsmeans