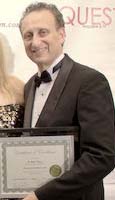 Dr. Robert Korwin thanks Governor Christie and is looking forward to serving the State of New Jersey.
Red Bank-Middletown, New Jersey (PRWEB) March 18, 2012
Dr. Korwin has accepted appointment as a public member to the New Jersey State Board of Psychological Examiners, and has taken and subscribed to the oath of allegiance and oath of office prescribed by law and filed with in the office of the Secretary of State.
The New Jersey board administers and enforces the provisions of the State Board of Psychological Examiners Laws, and has the responsibility of protecting the public by licensing and regulating psychologists in New Jersey.
The board examines, and issues permits or licenses attesting to professional qualifications to engage in the practice of psychology. The board also promulgates rules and regulations, and procedural standards for the independent professional review committee.
Two public members represent the interests of the public, and are voting members subject to the same rights, obligations and duties as other members of their respective boards or commissions.
Dr. Korwin thanks Governor Christie and is looking forward to serving the interests of the people of the State of New Jersey in his appointed capacity.
About Dr. Robert Korwin
Robert Korwin DMD, MICOI, MAGD is a renowned general dentist, teacher and innovator practicing in Middletown and Red Bank, NJ. With extensive academic, clinical and didactic training, he is one of only a handful of dentists worldwide who have dual Mastership awards from The Academy of General Dentistry and The International College of Oral Implantologists. Dr. Korwin promotes excellence in preventing orally linked disease and provides highly cosmetic dental repair and reconstruction utilizing orthodontics, implants, surgery, prosthetics and sedation, with laser, digital and computer assisted diagnostics. The practice works with patients to maximize their dental health, ensure their comfort and minimize financial concerns.
For more information, please visit http://www.drkorwin.com or call (732) 219-8900.