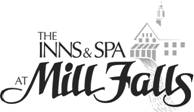 Meredith, NH (PRWEB) March 16, 2012
Meredith, NH – The Inns & Spa at Mill Falls, located in the historic village of Meredith, N.H., and a premier lodging destination in New Hampshire's Lakes Region, is one of the first properties in N.H. to launch a free and customized iPhone & Android mobile applications.
"Visitors and guests can download the free Mill Falls App to explore the Inns & Spa at Mill Falls and all the property has to offer," said Gail Batstone, General Manager of the Inns at Mill Falls. "We are thrilled to offer this as a guest service because it will help our guests manage their stay, easily find their way around the property, and get quick answers right from their mobile device. When guests arrive, they will be prompted to download the app and they can immediately see images and video, learn about all the hotel amenities and how to access them, and discover upcoming events at the hotel or in an around Meredith."
According to Batstone, guests can also browse guest relations information and receive exclusive offers directly on their iPhone/iPod Touch and Android phone. An interactive map will also serve as a guide to help guests find the location of all the nearest restaurants, bars, shops, cultural venues, and attractions.
"Our guests are more tech savvy and connected than ever before, and we wanted to create this application that would provide them with information at their fingertips, wherever they may be. We are pleased to be able to provide this mobile service, and be one of the first hotels in New Hampshire to do so," added Batstone. "We can also connect directly with our mobile guests and supply them with useful information about the hotel and the Lakes region , as well as exclusive values and opportunities."
The Inns & Spa at Mill Falls contracted with Mobile Media Applications, a mobile solution for the hospitality industry, to develop the customized app.
"The team at Mill Falls is certainly an early adopter of this technology and recognizes the value of connecting with their loyal guests, either while planning their next trip or while already visiting," said Tom O'Rourke, President of Mobile Media Applications of Newburyport, Mass. "They have taken our Ustay℠ Mobile App software platform, and have customized it with their own content, including last minute deals via push notifications, customized itineraries, and 24/7 guest access to hotel services -- as well as photos, videos, and an interactive map – to create an excellent and dynamic guest experience."
Key features of the Mill Falls App are:

View photos and videos of the Inns & Spa at Mill Falls and Meredith, N.H.
Contact hotel directly with single click email and dialing options (iPhone users only)
Keep up to date with latest news and events at Inns & Spa at Mill Falls and Meredith, N.H.
Interactive map allows users to find the location of the nearest shops, bars, medical centers, cultural venues, transport, restaurants, sports facilities
Access guest relations information anytime, anywhere
Guests can receive exclusive promotions directly
Share images and special offers on Facebook
"We are thrilled to bring this technology to our guests, and it's just another way the Inns & Spa at Mill Falls goes above and beyond to create the best experience for our guests," said Batstone. "We want our returning and new guests to feel equally knowledgeable about the goings on at our property, and provide them with all the things they need to make sure their visit with us is rewarding and relaxing."
ATTACHMENT: QR Code to download App
ABOUT THE INNS & SPA AT MILL FALLS
The Inns & Spa at Mill Falls broke ground in September 2011 to begin construction on Phase II of its Church Landing expansion. The new development will add 15 deluxe lake view rooms and suites in two new buildings. Named The Birch Lodge and The Boathouse Lodge, the new buildings are being constructed on either side of the existing Lake Shore Cottage which resides on the South end of Church Landing. The new buildings will be connected to the existing Church Landing by a semi-covered cedar walkway. The construction is expected to be completed in June 2012.
All rooms will all offer spectacular lake views, balconies and screened porches. In addition, each room will have a fieldstone fireplace, indoor whirlpool bath, wet bar, double glass and tile shower, and a bathroom LCD TV.
The Inns and Spa at Mill Falls are located in the historic village of Meredith, New Hampshire on the shores of Lake Winnipesaukee. The Inns family includes the four Inns; Mill Falls, Bay Point, Chase House and Church Landing as well as the Mill Falls Marketplace, the Cascade Spa and Meredith Gas Station. Church Landing received the 2012 Travelers' Choice Award by TripAdvisor as one of the Top 25 Hotels for Best Relaxation/Spa in the United States. Church Landing was voted 3rd Most Romantic Hotel in the U.S. by Trip Advisor, 2011. For more information, visit http://www.millfalls.com or call 800-622-6455.
Please use this product name with the service mark Ustay℠. Also, in the quote please change quote from " They have taken our Ustay mobile App" to "They have taken our Ustay℠ Mobile App software platform.