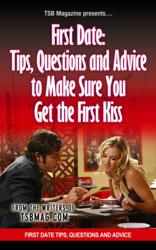 Hoboken, NJ (PRWEB) March 21, 2012
TSB Magazine, one of the top men's lifestyle websites that specializes in providing strategies to men for how to pick up women, has announced a new venture into the realm of publishing with the release of their new book, "First Date: Tips, Questions and Advice to Make Sure You Get the First Kiss."
The book, available immediately for download on Amazon.com, tries to tackle one of the most nerve-wracking and frustrating experiences that men face today: What exactly are you supposed to do on a first date?
"When's the right time to go for the first date kiss? Are you supposed to pay for the entire date or split the bill? Should you be going to a restaurant at all? These are the unanswered questions that every guy has, and it makes most first dates unbearable," says TBS Magazine's Bobby Rio. "Our book answers the first date questions clearly and succinctly, allowing men to just be comfortable and relax on first dates instead."
The book understands the general awkwardness and uncomfortable situation that is inherent in a first date. By spending time going through steps a man should take on a first date, it gives that man a playbook to draw from. "And that knowledge will set even the most inexperienced man at ease to actually have a good time," says Rio.
The first step to answering those questions, however, is dealing with the big misconceptions about first dates most men already have. "Take dinners, for instance," begins Rio. "Most people suggest that as the place where you should go on your first date. But that's really the worst possible location."
As the book explains, a first date should be a low-pressure affair where the pair of daters are able to get a sense of the other person. Having a long dinner in a fancy restaurant where the two still-strangers have nothing to do except talk to each other is, in a majority of cases, too stressful of a situation for most first dates to succeed. "Add into that questions like who's picking up the bill," says Rio, "and it's a recipe for disaster."
"First Date: Tips, Questions and Advice to Make Sure You Get the First Kiss" also explains the ideal time to actually go for that first date kiss, clues to get from the women to know that she's going to be receptive, the various ways to dress depending on the specific date, the importance of the first five minutes of the date (including how to give off the right first impression), and the way to create multiple dates in one night.
Ask any friend before an approaching first date whether or not they are looking forward to it, and more often than not the answer will be more hesitation than excitement. With the knowledge provided in this book, readers will shift more towards the latter and first dates will become something worth looking forward to again.
To learn more check out: http://www.tsbmag.com/first-date-tips/