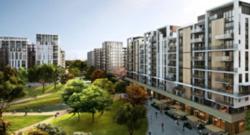 The first Games-time apartments offer an early glimpse of the gold-medal standard Village we are delivering to help athletes prepare for one of the biggest sporting moments of their lives
(PRWEB) March 16, 2012
The first completed Games-time apartments in the Olympic and Paralympic Villages were unveiled as the London Organising Committee of the Olympic Games and Paralympic Games (LOCOG) announced plans to deliver 'gold medal standard' athlete accommodation.
The Village will be able to house up to 16,000 athletes and team officials during the Olympic Games, and 6,200 athletes and team officials plus 1000 referees and umpires during the Paralympic Games, from more than 200 teams around the world.
The Village site was handed over by the Olympic Delivery Authority (ODA) in February, kick-starting a huge amount of fit-out and overlay work by LOCOG and its sponsors and partners to get the Village ready for the Games. Work is continuing across the Village site and the first fully kitted-out Games time apartments were unveiled featuring:
Bedroom furniture assembled, delivered and installed by UPS, including bedside cabinets, wardrobes and 'extendable' beds able to cater for taller athletes – more than 16,000 beds, 9,000 wardrobes and 11,000 sofas will be installed by UPS across the Village apartments in total
Homeware items supplied by Next, including 22,000 pillows, 1,200 blankets and 28,000 branded duvets
For the first time at a Games, each apartment will have its own comfortable lounge that will include a television provided by Panasonic, along with BT Infinity, the latest fibre optic broadband from BT
Each of the 11 residential blocks in the Village will be run to hotel-standards, with Holiday Inn supplying experienced personnel and concierge staff and services in Village residential areas – LOCOG and Holiday Inn's aim is for the Village to provide athletes with levels of convenience and service to match the standards of the best hotels in the world
Residential plots built around spacious courtyards offering private space for athletes, with balconies overlooking the Olympic Park and a Central Park area – 'the green lung' of the Village based on a typical British village green, creating an open area for athletes to relax in
Athlete accommodation is in 2,818 apartments spread across 11 residential plots. Over 250,000m2 of apartment space will be provided, ranging from one bedroom apartments up to 4 and 5 bedroom townhouses, with no more than two athletes per bedroom
Each country will be allocated a certain number of accommodation blocks in a single identifiable space, allowing their team management to manage their affairs in one central location in the Village
The fit-out and furnishings provided in each apartment have been overseen by LOCOG's Athletes' Committee led by Jonathan Edwards, to ensure athletes' comfort and convenience. Between them, the members of the Athletes' Committee have competed at 22 Olympic and nine Paralympic Games.
LOCOG Chair Seb Coe said: 'The first Games-time apartments offer an early glimpse of the gold-medal standard Village we are delivering to help athletes prepare for one of the biggest sporting moments of their lives. Our Villages team, Athletes' Committee, sponsors and key partners are each playing a crucial role in creating a first-class Village to meet the needs of the best athletes in the world.'
Olympic gold medallist Jonathan Edwards, Chair of LOCOG's Athletes' Committee said: 'Our focus at the Athletes' Committee is to ensure the Village provides the comfort and convenience needed by modern performance athletes. Using the extensive Games experience of the Athletes' Committee members, I'm confident we have helped create the perfect base for the Olympians and Paralympians coming to London this summer.'
The fit-out of athletes' apartments will be completed in June. Along with work in residential areas, work is also well underway by LOCOG and its partners and sponsors to provide other essential Games-time areas and services in the Olympic Village including:
Building the Olympic Village Plaza, the main 'social hub' of the Village with essential services including an Internet Lounge provided by Acer, a Bank provided by Lloyds TSB, ATM services supplied by VISA, and a Beauty & Grooming Salon and Spa provided by Procter & Gamble.
Constructing the temporary 24-hour main dining facility with 5,000 seats, together with a McDonalds restaurant in the Main Dining Hall
Food to be consumed in the Village includes 25,000 loaves of bread, 232 tonnes of potatoes, 75,000 litres of milk and more than 330 tonnes of fruit and vegetables
Food and drink products across the Village site supplied by sponsors including Coca Cola, Cadbury, Trebor and Nature Valley
Information kiosks supplied by Atos across the Olympic Village site
There will be GE equipment in the Village to efficiently generate, distribute and measure power. GE is also helping equip the Polyclinic in the Village where athletes will have access to first-class medical facilities
A state-of-the-art athlete gym will be created in Chobham Academy with Technogym expected to supply over 750 pieces of equipment and a team of over 100 professional personal trainers at the main gym and 19 specific preparation centres. This will be the company's fifth Olympic experience and their state-of-the-art equipment will help keep the athletes in great shape as they head off to their venues
During the Paralympic Games, a workshop provided by Otto Bock staffed by 80 technicians and equipped with 15,000 spare parts including 2,000 wheelchair tyres to meet all the technical service and repair needs for the orthoses (devices which support the limbs), prosthetics (replacements for limbs) and wheelchairs used by Paralympic athletes
Constructing the Welcome Centre, the initial arrival point for athletes and officials to be officially accredited for the London 2012 Games
Landscaping work continuing across the Village and due for completion in the spring to create green open spaces and recreational areas for athletes
After the Games, the ODA will make provision for removing temporary Games-time fittings in the apartments and 'retro-fitting' them with new kitchens. The Village will then create a legacy of 2,818 new homes across 11 individually designed plots in a new community to be known as East Village. This will offer the best of city living in one place as high-quality homes – affordable and private rented or owned – are matched with newly created parklands, public squares and some of the best transport connections in the capital.
Of the homes in the Village, 1,379 have been purchased by joint venture Triathlon Homes to provide high-quality affordable housing. The remaining 1,439 properties will become private housing after being acquired by a consortium of UK developer Delancey and the Qatari Diar real estate investment company. The consortium has also secured six adjacent future development plots with the potential for 2,000 more homes.
Notes to editors:
1. Images of the first kitted-out Games-time apartments and Village site can be downloaded from http://mm.gettyimages.com/mm/nicePath/locog?nav=pr164779247
2. Previous images of Olympian Matthew Pinsent helping start the fit-out of the Village site can be downloaded from http://mm.gettyimages.com/mm/nicePath/locog?nav=pr162145406
3. Footage of the Village will be available from the LOCOG press office from 4pm on Thursday 15 March – please call 020 3 2012 100.
4. Footage of UPS London 2012 Ambassador and British gymnast Louis Smith viewing at UPS's London 2012 facility in Tilbury and footage of Village furniture in construction can be downloaded from http://www.thenewsmarket.com/ups
For further information please contact the London 2012 Press Office.
London 2012 Games partners: The Worldwide Olympic Partners who support the London 2012 Olympic Games and the National Olympic Committees around the world are Coca-Cola, Acer, Atos, Dow, GE, McDonald's, Omega, Panasonic, Procter and Gamble, Samsung and Visa.
LOCOG has seven domestic Tier One Partners – adidas, BMW, BP, British Airways, BT, EDF and Lloyds TSB. There are seven domestic Tier Two Supporters – Adecco, ArcelorMittal, Cadbury, Cisco, Deloitte, Thomas Cook and UPS. There are now twenty-eight domestic Tier Three Suppliers and Providers – Aggreko, Airwave, Atkins, Boston Consulting Group, CBS Outdoor, Crystal CG, Eurostar, Freshfields Bruckhaus Deringer LLP, G4S, GSK, Gymnova, Heathrow Airport, Heineken UK, Holiday Inn, John Lewis, McCann Worldgroup, Mondo, NATURE VALLEY, Next, Nielsen, Populous, Rapiscan Systems, Rio Tinto, Technogym, Thames Water, Ticketmaster, Trebor and Westfield.
There is one domestic Tier One Paralympic Games-only Partner, Sainsbury's and one domestic Tier Three Paralympic Games-only Supplier, Otto Bock. The London 2012 Paralympic Games also acknowledges the support of the National Lottery.