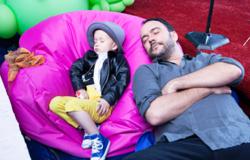 Fatboy® was honored to participate in the ninth-annual benefit to support such an important cause," said Paula Masters, President of Fatboy® USA. "Without the Stuart House many children and their families would have nowhere else to turn."
Dallas, Texas (PRWEB) March 19, 2012
Fatboy® celebrated with John Varvatos at the 9th Annual Stuart House Benefit, presented by Chrysler, at his Los Angeles boutique. The event, hosted by Leslie Mann and Judd Apatow, closed Melrose Avenue at Robertson in the heart of West Hollywood to raise $700,000 for Stuart House—the UCLA Rape Treatment Center's internationally recognized model program serving sexually abused children. Over 1,500 guests were treated to an afternoon of fun filled children's activities, luxury shopping, live and silent auctions and great food.
Fatboy® was amongst an eclectic ensemble of actors and musicians, including Steven Tyler, Cindy Crawford, Tori Spelling, Zoe Saldana, David Spade, Bryan Cranston, Rachel Zoe, Terrence Howard, David Schwimmer, Taboo and many more. The event's emcee, Bill Bellamy, hosted the live auction and John Varvatos introduced the special solo performance by two time Grammy Award winner Dave Matthews.
This year's kids' tent was a carnival theme sponsored by Hasbro Inc and once again, decked out with Fatboy® lounge chairs in an array of lively colors. Family fun and activities in the tent included giant sized games such as Connect 4, Operation and Jenga. While lounging on Fatboy® beanbags, children of all ages were captivated by the magic of Justin Willman and the balloon artistry of Buster Balloon.
Fatboy® was honored to participate in the ninth-annual benefit to support such an important cause," said Paula Masters, President of Fatboy® USA. "Without the Stuart House many children and their families would have nowhere else to turn."
John Varvatos and Stuart House were proud to have such a revered artist perform on this exceptional day. John Varvatos stated, "In our ninth year of doing this event, today was the most magical one yet. From the overwhelming ticket sales, to the amazing auction items and the most generous sponsors, Chrysler and Hasbro, the day was capped off by an incredible performance by Dave Matthews."
The newest addition to the Stuart House event is the online auction, which features a Limited Edition Chrysler 300S customized by John Varvatos and inspired by his design aesthetic. For a full list of exclusive items in addition to the one of a kind car, please visit the online auction, which runs now through March 20th at charitybuzz.com/johnvarvatos.
To learn more this remarkable cause and how to get involved please visit http://www.johnvarvatos.com/stuart_house.aspx.
Fatboy®
Fatboy® is an imaginative lifestyle brand that excels in thinking outside the box. The Dutch company has been challenging the concepts of lifestyle product since 2002, when it set out to create the perfect lounge chair— designed for fashion, for comfort, and tailored for an unmatched lounging experience. Today, Fatboy® brings energizing comfort and smiles to people in over sixty countries worldwide with a growing line of lifestyle products all designed in the name of a wonder-fuller life. Wrap yourself in the Fatboy® brand experience and share the legacy by visiting http://www.fatboyusa.com and http://www.facebook.com/FatboyUSA.
Stuart House
Stuart House is an internationally recognized, model program created by the Rape Treatment Center at Santa Monica-UCLA Medical Center to serve the special needs of sexually abused children. Stuart House brings together police, prosecutors and child protection personnel in a child-friendly facility to enhance the treatment of child victims. Stuart House also provides 24-hour expert medical/forensic examinations and comprehensive therapy, advocacy and other support services to help children heal from the traumatic effects of sexual abuse. All Stuart House services are free to child victims and their families.
John Varvatos
Launched in 2000 with a collection of tailored clothing and sportswear, John Varvatos now represents entire men's lifestyle that includes footwear, bags, belts, eyewear, limited edition watches, men's fragrances, as well as the younger, edgier John Varvatos USA Collection and Converse by John Varvatos. The designer has been recognized three times by the CFDA with an American Fashion Award for New Menswear Designer (June 2000) and Menswear Designer of the Year (June 2001 and June 2005) and was honored as GQ's "Designer of the Year" in 2007. The collection is distributed in freestanding John Varvatos boutiques across the US—including his famed 315 Bowery boutique in New York City, formerly the seminal underground music club CBGB's—and online, as well as in better department stores throughout the world. Visit us at johnvarvatos.com or join us on Facebook: facebook.com/johnvarvatos