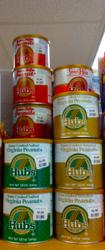 The result is a wholesome, healthful product with superior taste and crunch. Our family is committed to providing you with quality which can only be achieved through time honored methods.
Elma, New York (PRWEB) March 20, 2012
The Made In America Store, which is known for carrying 100% American made products, now supplies peanuts from Hubbard Peanut Company on it's shelves in Elma, New York. The Hubbard Peanut Company has a rich history of how to defy the odds and how the American dream can still be attained. With four different distinct flavors, these 12 ounce tins, that are always filled to the brim, are sure to be a hit.
Hubbard Peanut Company started back in 1954 when Dot Hubbard decided she couldn't go back to Franklin Elementary school to teach, due to having a baby at home and twins on the way. With what limited time she had, she startaed to cook peanuts at her home in Southampton County. She began selling her peanuts in one ounce bags to anyone in town she could find for ten cents. People all over town started asking for Hubbard's peanuts, even though it was widely known she was charging almost double than the local competition, a Suffolk county brand called Planter's Peanuts.
When Hubbard couldn't keep up with capacity, she had her neighbors and friends skin peanuts so she could cook and package the peanuts at the end of the day. Eight years later, Hubbard and her family had to move to a larger facility, the five room house would no longer do. Over the years the Hubbard Peanuts Company grew with the times, relying on neighbors and friends to get to where they are today, a perfect American Dream story.
The Made In America Store offers four different flavors of peanuts, Home Cooked Salted, Home Cooked Unsalted, Butter Toffee and Sweet Heat. Each flavor comes in twelve ounce tins that are generously filled to the very top.
The Made In America Store is located at 900 Maple Road in Elma, New York and is committed to selling 100% American manufactured products. You can visit http://www.SaveOurCountryFirst.com for more information or shop our catalog of over 290 vendors that are devoted to producing USA made products. Consumers can also keep up to date news articles, events, photos and contests with Facebook, Twitter, Google+, Pinterest and Tumblr!