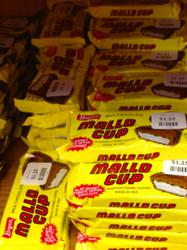 Elma, NY (PRWEB) March 22, 2012
The Made In America Store is known for selling 100% USA made products. Everything in the store, from the stitching in the clothes to the plastic packaging around the food, is made in America. Recently, the Made In America Store has picked up Mallo Cups from Boyer, a chocolate treat with marshmallow filling.
Boyer, the manufacturer of Mallo Cups, started back in the 1920s during the Great Depression. The Boyer brothers started making chocolates in their mother's kitchen, as a way to generate some extra income during the harsh economic times. Their mother and sister helped the Boyer brothers by wrapping the chocolates they had made. At the time, the brothers only made fudge and nut raisin clusters, but as the demand for their decadent chocolate increased, so did varieties they created.
With the demand of new ideas in chocolate on the rise, the brothers needed some new concepts to introduce. Initially the Boyer brothers wanted to make chocolate covered marshmallows, but just couldn't get the marshmallows to harden, holding the chocolate firm. That is when Emily, the Boyer brothers' sister, came up with the idea of using cupcake wrappers to hold the chocolate covered marshmallow. This was the birth of the first cup candy in America, and thus the Mallo Cup as we know it today.
Like the packaging of the Mallo Cups, vintage styling is all over the Made In America Store. From the metal signs of Marilyn Monroe to the vintage Pepsi cooler, there are overtones all over the store to remind everyone visiting that hard work ethic is still alive in America.
The Made In America Store is located at 900 Maple Road in Elma, New York and is committed to selling 100% American made products. You can visit http://www.SaveOurCountryFirst.com for more information or shop our catalog of 290 vendors that are devoted to producing USA made products. All US military personnel both active duty and retired receive a discount everyday. Consumers can also keep up to date news articles, events, photos and contests with Facebook, Twitter, Google+, Pinterest and Tumblr