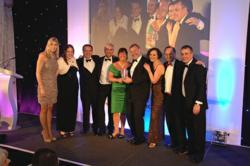 "All our team should feel very proud of this achievement as it is a true reflection of our drive, energy and capability."
London, UK (PRWEB UK) 18 March 2012
Afiniti, which has offices in London, Aberdeen and Hemel Hempstead, picked up a total of three awards at the event, held at the Dorchester hotel in February, making it one of the biggest winners of the night.
In addition to winning the coveted gold award for Training Company of the Year, Afiniti's learning consultant Jim Hainie, collected the gold award for Trainer of the Year, whilst a project with Network Rail was awarded the silver award for External Project of the Year.
Managing director of Afiniti, Corrina Jorgensen, was delighted with the company's performance on the evening.
She said: "The economic and business challenges of 2011 continue, and it has never been more pertinent to connect learning and development with performance.
"To have been shortlisted in four categories and win three awards is amazing. We are pleased as punch and very humbled as it is an incredibly competitive arena with over 160 entrants this year. It is a real testament to our great talent, amazing people and absolute passion for doing the right things and doing things right."
Director, Tony Small, said: "We were delighted to win the flagship award of the evening. This is an accolade that we have been close to achieving for several years and it was great to see all of our efforts and successes rewarded this year of all years.
"All our team should feel very proud of this achievement as it is a true reflection of our drive, energy and capability."
The judges were particularly impressed with Afiniti's powerful proposition 'making change stick' and the innovative and creative interventions used to embed change.
Corrina added: "At Afiniti we are all about making change stick. We deliver powerful communications and engagement strategies as well as end-user training and adoption techniques to support technology, people or process related change; and the business transformation surrounding the required change in behaviour.
"We truly believe in the power of learning; informal and formal, experiential and action centred; to genuinely inspire, interact and involve the end-user and all importantly 'making change stick'."
Afiniti has over 20 years experience delivering communications strategies and training programmes throughout the UK. It employs 35 full time staff supported by 25 associates.