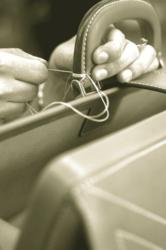 The leather has a wonderful lustre...(a satisfied customer from Sweden)
(PRWEB UK) 16 March 2012
Luxury Artisan was launched in October 2011 by Rupert Bullock, a former futures trader. Having been involved in financial markets for 15 years, he became disillusioned with the industry, especially after the recent financial crisis.
It was time for a life change. Having always had an eye for design, and an appreciation of beautifully-made products, he was drawn to luxury leather goods, and in particular to Italy.
Several trips and trade shows later, Rupert had personally put together a collection of beautiful leather products from 7 Italian heritage brands. He felt strongly that these were brands with great potential, as the products were handmade in Italy by skilled craftsmen, and the designs were timeless classics. They were, however, relatively unknown globally, and especially in the UK.
One example of this is Pineider, which was established in 1774. It is currently undergoing a renaissance following its change of ownership 5 years ago.
With the brands discovered, the products found, and the website built, it was time to launch Luxury Artisan in October 2011. This took place at Rupert's brother in law's Italian Osteria in London.
The overriding feedback at the launch was that people loved the quality and classic designs of the leather handbags, briefcases, Wallets, Gloves and accessories.
Although Luxury Artisan is only 5 months old, the signs are very encouraging. Sales are gradually building, and the feedback has been very positive from customers. People love the quality of the products, as well as their understated nature.
This is only the beginning, as many exciting projects are planned for later in 2012.
Keep an eye out for them at Luxury Artisan