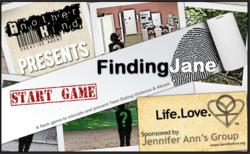 "I was surprised how much I learned about my own relationships as well as having some really useful conversations with my family about establishing healthy boundaries."
- Geek Dad, Wired.com
Atlanta, GA (PRWEB) March 17, 2012
Atlanta based nonprofit, Jennifer Ann's Group, announces the "5th Annual Life.Love. Game Design Challenge" with a first place prize of $5,000 for the video game that best illustrates the dangers of dating violence for teens, tweens, and young adults.
In 2008 Jennifer Ann's Group announced the first challenge to promote awareness of teen dating violence through video games. The video game design contest was very well received, due in part to the restriction that the video game entries must increase awareness about teen dating violence but cannot include violence in the video game itself. Every year since 2008, the contest has received increased participation from the international community. Winning entries include video games from the United States, Thailand, Mexico, and Belgium.
The video game design challenge has been received with a great deal of praise from both the media and public alike:
"That Jennifer Ann's Group uses game design to reach out to its target demographic is another example of how positive our medium can be."

Leigh Alexander, SexyVideogameland
"I approached Grace's Diary (2010 winner) quite sure I had never encountered dating violence. But playing caused me to stop and remember back to when I was a teenager, and I realised that wasn't completely true."

Microcosm Gamer, GamePeople.co.uk
"Grace's Diary manages to seamlessly integrate the theme of relationship abuse into a sensitive and moving visual novel."

"The game serves an important purpose, as it addresses an issue with youth not being talked about or taken seriously in a medium that it's easy to get into, and get educated. The player feels for the characters, cares about their fate, and comes out feeling worn out from the ordeal."

Janette, jedko.wordpress.com
" … [I]t is relevant, simple and hits some of us close to home. Putting it in a game format like this just makes it more intimate and engrossing and I totally recommend it if you have twenty minutes to spare."

Strangeluv, MeridianDance.org
"This is the first game to get a perfect 5 on this site, and I'm not just being swayed by the fact that it's made to support a good cause."

"I was surprised how much I learned about my own relationships as well as having some really useful conversations with my family about establishing healthy boundaries."

Drew Crecente, Executive Director of Jennifer Ann's Group, has this to say, "Video games have traditionally been treated primarily as a source for entertainment and secondarily for education purposes but rarely as a tool for social change. Jennifer Ann's Group is attempting to reach as much of our target audience as possible within the constraints of our small nonprofit's budget. Every year the games are enjoyed by more and more of the public and this year we're hoping for an even larger impact."
Rules, sign-up information, FAQs, and all previously winning games are available at Jennifer Ann's Group's website: http://www.JenniferAnn.org.
ABOUT Jennifer Ann's Group - Jennifer Ann's Group is a non-profit, 501(c)(3) organization dedicated to educating young people, parents, and teachers about danger signs, warning signals, and indications of dangerous relationships and then providing information leading to groups that offer assistance, counseling and protection. Jennifer Ann's Group was instrumental in the passing of legislation in Texas mandating teen dating violence awareness in schools and has distributed over 1/2 million free educational materials to schools, churches, police departments, district attorneys, and organizations throughout the U.S. and U.K. at no cost to the recipients.
In 2006, Drew Crecente created Jennifer Ann's Group in response to his daughter's murder at the hands of her ex-boyfriend. Jennifer Ann Crecente was an honor roll student in high school; she was a camp counselor and a hospital volunteer; and she participated in the arts with her dad. She is missed every day.