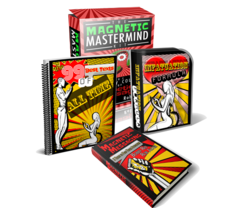 Hoboken, NJ (PRWEB) March 26, 2012
The creators of "Magnetic Messaging", a brand new guide for men looking to use text messaging to turn women on and get more dates, have just announced that the program has sold over 500 copies in less than 5 days.
The program, available immediately for download at MagneticMessaging.com, tackles one of the most complicated and frustrating experience men face today: What type of text message are you supposed to send a girl who you have just met or are trying to get to know better?
"When is the right time to send that first text? Are you supposed to be funny, serious, flirtatious, or humble? These are unanswered questions that every guy has, and it leaves most men dreading the experience of taking out their cell phone to send a woman a message," says Magnetic Messaging co-creator Bobby Rio. "Our guide really hit a nerve with men around the world, which has led to record sales for us in a very short amount of time."
The book understands the major dilemma most men face when getting a woman's phone number for the first time. By spending time going through examples of the types of texts a man should send immediately following his first meeting with the woman, it gives that man a playbook to draw on. "And that knowledge can save a lot of guys from blowing it with a woman who had been previously interested in him," says Rio.
The program, which consists of several ebooks and videos, is available throughout the entire world, and has already sold copies in almost every English speaking country. "Text messaging is something guys around the world are doing every single day, so it did not surprise us at all that there was such a pent up demand for the program," says Rio.
The first step to answering the questions the common questions, however, is dealing with the big misconception most men already have about texting girls. "Most men have been following horrible advice for quite some time," begins Rio. "Guys have been told things like 'express your feelings to her', 'compliment her', 'text her sweet thing', or 'wait 3 days before texting her…' and all of that advice is dead wrong."
As the program explains, text messaging should be used for the sole purpose of moving a man closer towards getting a woman out on a date. Magnetic Messaging also reveals what the creators refer to as The Key Lock Sequence. "The Key Lock Sequence gives men a step by step plan of attack every time they decide to text a woman." Says Rio, "and it keeps them from making the type of mistakes that scare a woman away."
"Magnetic Messaging: Unleashing the Power of the Key Lock Sequence" also comes with a second ebook titled "The 99 Best Texts of All Time." This ebook contains 99 texts right out of one of its co-creators cell phone. "Men seem to really like the 99 Best Texts of All Time because it gives them exact texts that can basically steal and use as their owns" says Rio.
Magnetic Messaging is currently being translated into Portuguese and German and is set to expand into the German and Brazilian markets by the end of the year. "That's what has made Magnetic Messaging such an instant hit- text messaging is universal and men around the entire world have taken a strong interest in the program," says Rio.
Bobby Rio, co-creator of Magnetic Messaging, has been helping men improve their social life for the past 7 years. And is also the founder of TSB Magazine.
For more information go to: http://www.magneticmessaging.com