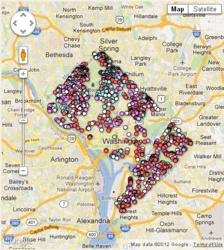 Washington, D.C. (PRWEB) March 19, 2012
To celebrate the 100th anniversary of the gift of cherry trees from Japan, Casey Trees' Technical Services & Research department has created an interactive map showcasing cherry trees across the District.
The new map highlights cherry blossom locations in all eight wards, offering alternative sites to witness the peak bloom and avoid crowds at the Tidal Basin and the National Mall and encouraging residents to discover trees in their own neighborhoods and communities.
White dots are the familiar Yoshino cherry trees, turquoise dots represent snow goose cherry trees, pink dots mark the location of the pink, double-blossomed Kwanzan cherry trees, which bloom about two weeks after the Yoshino, and red dots signify all other cherry trees, which include black cherry, edible cherry, Okame cherry and weeping cherry trees. Map users can also learn when each cherry tree was planted, its size, longitudinal and latitude coordinates and get a street view of the planting site.
Casey Trees' website hosts other tree maps, including one highlighting American elms, that allow residents to identify and learn more about their urban forest.