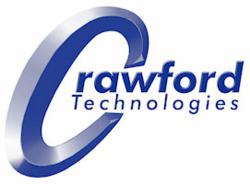 Having your documents stored in an ECM is one thing, being able to leverage them efficiently and across your organization is another
Fort Collins, CO (PRWEB) March 20, 2012
The AIIM Conference 2012 kicks off today at the Grand Hyatt in San Francisco, Calif., and Crawford Technologies is excited to be a part of the renewed vision of the AIIM organization by supporting them as a Gold sponsor. The sold out conference has a full agenda of keynote speakers from Forrester Research, NYU, The New York Times, Skechers and, AIIM President, John Mancini. This conference is positioned to bring the most advanced solutions in Enterprise Content Management (ECM) to attendees.
"We see the AIIM Conference 2012 as a showcase for our new focus on people and ensuring information professionals are equipped to keep pace with technology," said John Mancini, AIIM President. "By working with the best companies in the ECM space, we are striving, and succeeding, to give our community the best tools and education to solve their complex business problems."
Crawford Technologies' goal at the AIIM Conference 2012 is to educate and forge new relationships in the ECM industry. The Archive Management Solutions division of Crawford Technologies is positioned to help customers manage their critical document assets across the extended enterprise. By adding additional value to existing ECM systems or migrating customers to new, more powerful ECM systems we offer our customers the ability to efficiently take advantage of valuable information contained in their document assets.
Crawford Technologies focuses on leveraging customers' current document management infrastructure while elevating the valuable (and often critical) information it contains to improve daily business processes. We offer solutions in the areas of:

ECM Document Services
Enhanced Import Services for document capture
ECM Migration Services
Document Access Services
ECM e-Delivery Solutions
Distributed Print Services
SharePoint Solutions
"Having your documents stored in an ECM is one thing, being able to leverage them efficiently and across your organization is another," said Ernie Crawford, President. "Crawford Technologies uses its 16 years of Enterprise Output Management and archival to bring significant improvements to the delivery of information to people, processes and applications."
The recent announcement of PRO Archiver v3.0 brings significant enhancements to users of EMC Documentum. These include the capability to archive native print files such as AFP and Xerox Metacode. The benefit to Crawford Technologies customers include a highly efficient storage model, fidelity of the original print file and elimination of any file conversion overhead incurred during the archive process.
If you are interested in leveraging and managing your critical document assets to achieve the most functionality across your organization, we invite you to contact us by visiting http://www.crawfordtech.com or at sales(at)crawfordtech(dot)com.
Stay up to date with our current events and industry participation by engaging with us at http://www.crawfordtech.com/about where you can follow us on twitter, "like" us on Facebook and join us on LinkedIn.
About Crawford Technologies
Since 1995, Crawford Technologies' award-winning solutions have helped over 700 companies around the world reduce costs associated with communications' processes by delivering bills, statements and other mission-critical transactional communications to their customers in the format they need, when they need it. This includes alternate format documents in Braille, Large Print, Audio and E-text for visually impaired and print-disabled customers.
With CrawfordTech's range of unique software products and services, our clients simplify, automate and extend document delivery cost effectively - irrespective of current, legacy or future standards in infrastructure or document output. These clients, including four of the top five US banks, four of the top five US insurance companies and four of the world's top five car manufacturers, are realizing high-value results as costs associated with document processes are minimized through automation, new opportunities for savings across critical communications are realized and they react quickly to changes in regulations, policies, business requirements and technical infrastructure.
Crawford Technologies is an award-winning leader in print-stream transformation, document re-engineering, workflow, document accessibility and archiving software solutions. In both 2010 and 2011, Crawford Technologies has been named one of Canada's fastest growing companies by PROFIT Magazine.
CrawfordTech's quality software, expert support and transactional document business knowledge help clients to meet operational, service, marketing, legal and compliance requirements and automate the delivery of billions of communications to their customers annually. Simply put, companies look to Crawford Technologies for a platform-independent approach, leading system performance and superior output fidelity. Please visit http://www.crawfordtech.com to find out more about CrawfordTech's clients, people, partners and solutions.