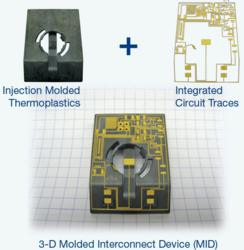 3-D MID's bridge the gap between a circuit board, wiring harness and plastic part" Stephan Schmidt
Palatine, IL (PRWEB) March 28, 2012
3-D MID blog, the World's premiere source for information regarding 3-Dimensional Molded Interconnect Devices (3-D MID) becomes wholly integrated into SelectConnectTech.com
SelectConnect Technologies is honored to be entrusted with the continuation of such a respected information source to the 3-D MID industry.
3-D MID's are formed through a variety of methods. The foremost methods are Laser Direct Structuring(LDS) and the selective metallization of components made using the double-shot method.
According to Stephan Schmidt, President of LPKF USA – "3-D MID's bridge the gap between a circuit board, wiring harness and plastic parts."
Laser Direct Structuring is a process in which circuitry and/or antenna pattern are laser etched directly onto the surface of a thermoplastic molded component or chassis. The thermoplastic is "doped" with a compound that once laser activated accepts metallization creating a conductive path.
3-D MID's help you:

Reduce Size
Reduce Assembly Times
Reduce Complexity
Increase Assembly Yields
3-D MIDs are essential elements for NextGen electronic components in Automotive, Antenna, Medical Devices, Military and Aerospace applications, Security Shielding and Sensor Packaging.
About SelectConnect Technologies
SelectConnect Technologies manufactures 3-D MIDs created using the LPKF LDS process and selectively metalizes molded components produced by the double-shot method.
As the only contract provider of LDS 3-D MID services in North America, we work on products from early stage prototype up to high-volume production.
SelectConnect Technologies is ISO 9001:2008 certified and ITAR registered