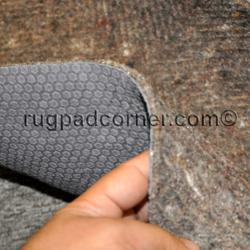 We strive towards perfection in a rug pad and Ultra Premium is the perfect rug pad that customers can safely use on all types of floors.
Wilton, CT (PRWEB) March 18, 2012
Rug Pad Corner, the nation's source for quality rug pads, announces that its Ultra Premium rug pad was voted as best felt rug pad for all floors. A poll of thousands of customers revealed that Ultra Premium was the first choice for a rug pad under rugs on hardwood, wood and all hard floor surfaces.
"We take pride in every aspect of our Ultra Premium rug pad and we are extremely happy that customers appreciate the quality of this rug pad," states Sam of Rug Pad Corner. "There are so many precise measures we take in manufacturing Ultra Premium in order to make it the best of its type." Sam continues to say that while many other rug pads try to imitate Ultra Premium, none of them come close for several reasons.
Ultra Premium is a felt and rubber rug pad meant to protect rug and floor, as well as prevent slipping. The differences between Ultra Premium and others are in the materials and production of the rug pad. Ultra Premium is made in the USA of recycled felt and natural rubber, where many others use an imitation rubber. Natural rubber is completely safe for all floors where the rubber imitations with adhesives are known to mark the floor. Besides containing all natural rubber, Ultra Premium also contains a unique texture within the rubber that allows for maximum grip on any hard floor surface. Lastly, the rubber layer is attached to the felt through a heat pressing process to assure that there are no glues or adhesives used. "Where others use glues or adhesives to put their rug pads together, we avoid this to assure the safest rug pad for all floors," states Sam.
Customers, to include homeowners, interior designers, architects and stores, were all impressed at the quality of Ultra Premium rug pad. "We are so used to receiving rug pads with strong chemical like odors, that it was a very welcomed surprise to not have any such odor when we received this Ultra Premium rug pad," states Lynn G., interior designer, CT. The problem with the other rug pads that use glue and adhesives lies in the fact that they can off-gas with odors and they can stick to and harm the floor.
Rug Pad Corner manufactures Ultra Premium felt and rubber rug pad as if it is meant to perform for twenty years without any threat of damage to rug or floor. The rug pad is offered online in all standard sizes and in various shapes. Custom sizes are also offered at no extra cutting charge and all rug pad orders ship for free within the contiguous United States.