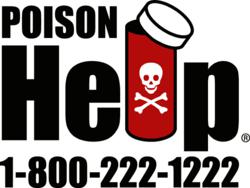 Most calls to poison centers are about children, but most people who die from poisons are adults.
Alexandria, VA (PRWEB) March 18, 2012
The American Association of Poison Control Centers (AAPCC) is reminding Americans that poisonings can happen at any time to anyone of any age, according to Debbie Carr, AAPCC executive director.
"The 50th anniversary of National Poison Prevention Week is the perfect time to highlight the fact that poisonings can happen to anyone and poison prevention is for everyone, from children to seniors and everyone in between," Carr said. "Poisonings span a lifetime."
Since 1962, the third week in March has been designated National Poison Prevention Week and has focused national attention on the dangers of poisonings and how to prevent them. America's 57 poison centers are committed to safeguarding the health and well-being of every American through poison prevention and free, confidential, expert medical services. Poison centers respond to calls 24 hours a day, seven days a week in order to help those who have been exposed to toxic substances.
In 2010, U.S. poison centers answered more than 3.9 million calls, including nearly 2.4 million calls about human exposures to poisons. Parents and babysitters call poison centers when young children get into a toxic substance. Seniors call poison centers when they fear they may have made an error in taking their medicines. And doctors, nurses, pharmacists and emergency room staff place 1,400 calls every day to their local poison center for treatment advice on drug- or poison-related cases.
"Most calls to poison centers are about children, but most people who die from poisons are adults," Carr said. "A poison is any substance that can harm someone if it is used in the wrong way, by the wrong person or in the wrong amount. Poisoning is a danger for all of us."
The experts at America's 57 poison centers offer the following tips to help you prevent poisonings:

Keep medicines and cleaning supplies locked up and away from children. Children act fast. Unfortunately, so do poisons.
Always put on your glasses to read your prescription bottle, and only take medicine with the lights on.
Ask visitors to keep purses and luggage containing medicine out of the reach of children at all times.
Install carbon monoxide detectors and check batteries at least twice a year.
Keep the 1-800-222-1222 Poison Help number accessible and program it into your cell phone. Call the Poison Help number even if it's not an emergency. When in doubt, check it out.
For more information, the media may contact Loreeta Canton, AAPCC communications manager, at 703.894.1863 or canton(at)aapcc(dot)org or Brett Schuster, communications assistant, at 703.894.1859 or schuster(at)aapcc(dot)org.
The AAPCC supports the nation's 57 poison centers in their efforts to treat and prevent drug, consumer product, animal, environmental and food poisoning. Members staff the Poison Help hotline at 1-800-222-1222 that provides free, confidential, expert medical advice 24 hours a day, seven days a week, 365 days a year from toxicology specialists, including nurses, pharmacists, physicians and poison information providers. In addition, the AAPCC maintains the only poison information and surveillance database in the United States, providing real-time monitoring of unusual poisoning patterns, chemical exposures and other emerging public health hazards. The AAPCC partners with federal agencies such as EPA, HRSA and the CDC, as well as private industry.
To learn more, visit http://www.aapcc.org, like us on Facebook, follow us on Twitter, or read our blog at aapcc.wordpress.com.
-- 30 --