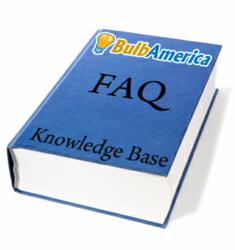 Our customer centric knowledge base and FAQ sections have been primarily designed to educate our customers.
Brooklyn, NY (PRWEB) March 19, 2012
The environmentally friendly company BulbAmerica that is the leading provider of lighting systems and solutions and innovative lighting technology recently updated their knowledge base and FAQ sections. Their knowledge base offers plenty of information regarding CFLs, HIDS, LEDs, lighting controllers, effects, halogen bulbs as well as outdoor, stage, and studio lighting. People who are on the lookout for technical information and product guides will also find exactly what they need at the BulbAmerica.com website. From bright ideas regarding green lighting to the best medical and scientific lighting products such as sterilization bulbs and lamps, their knowledge base presents the newest and the most innovative developments in this industry. Lighting technology news across the US that is collected from various reliable and trustworthy sources is also available in the knowledge base.
The FAQ section contains a series of short and informative answers to a number of commonly asked questions on dimmers, controllers, CFLs, LED PAR cans and bulbs, MR16s, etc. General information about the company including their order, payment, returns, and refunds policy is also available in this section. A lighting expert at BulbAmerica.com explains, "We are a company that believes in providing people with the right information regarding lighting fixtures, light bulbs, and other products" adding that "Our customer centric knowledge base and FAQ sections have been primarily designed to educate our customers." BulbAmerica also offers all their online visitors comprehensive and detailed information regarding their partner link exchange program as well as details regarding their shipping and delivery times and pricing and inventory. These sections are constantly updated, so people always have access to the latest information regarding the company as well as the newest lighting technology that is currently available in the market.
With over 150,000 customers, BulbAmerica is the largest wholesale provider of quality lighting fixtures and light bulbs in the United States. They have been a part of the industry for almost 10 years now. The reputable company offers quality products that include fluorescent, halogen light, LED, CFL, and incandescent bulbs, projector lamps, various LED lighting options including LED strips, etc. To access their latest FAQ section and knowledge base, visit http://www.bulbamerica.com today or call 1-877-650-0775.