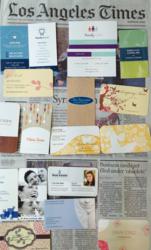 business card marketing...can help you succeed over your competitors
Thousand Oaks, Calif (PRWEB) March 16, 2012
In today's digital economy, savvy business people take advantage of premium business cards to differentiate themselves from the competition. In response to the March 16, 2012 article in which the Los Angeles Times claims "Passing out business cards is quickly becoming passé," Egency has developed the Top 5 ways to use high quality business cards.
The direct responses to the online article included many points for the tangibility of a business card and their part in industries that "are driven less by technology and more by handshakes." One doctor responded, "when I meet someone … I am pleased to be able to say, handing them a card, 'Feel free to call anytime.'" Another response mentions, "I can usually gauge the company's culture and its business style just by looking at their [business card]."
"We have found that strategic use of business cards, from the quality of the design to the type of paper you use are just as important as how you present the card in business situations," states Jay Fayloga, Director of Product Management for Egency. "Not everyone lives and works in an online world. I find myself walking out of most local businesses with a business card in hand, whether it's from my dentist, a real estate agent or a salon business card after I've just had my hair cut."
Egency recommends the following to business professionals when creating and using their business cards.
Go For Quality and Functionality: The biggest mistake you can make when getting business cards is to ignore quality and functionality. Find a high quality design that will stand out from the boring white cards that everyone else gives away. Get a thick, firm card stock so that the recipient can immediately feel that you are important. And, make your business card functional. For example, a hair salon business card should use the back to write down an appointment reminder for the recipient.
Promote Your Brand: Not a day goes by where news outlets, including the Los Angeles Times, does not have an article about how a company is promoting their brand. In the newspaper yesterday, an article proclaimed, "buzz for the brand." And, in a separate article, they state, "the power of its brand." Business cards give you that same power. When you hand a business card to someone, they are experiencing your brand and now have a tangible representation of your brand to remember you by.
Write on the Card: Successful businesses can grow strong by developing relationships with their customers. When handing a business card, give the recipient an extra reason to refer back to the card – a personal touch. As stated earlier, you can write an appointment. But, consider writing down a personal email address, or handwriting your product or service as a reminder.
Free Business Marketing: It has never been more important to get quality business cards because you never know who will eventually end up with the card. Give out an extra one to friendly business partners. Also, don't be shy about approaching others and giving them a copy.
Accept Business Cards: Being a good business card recipient is critical for your business. When you receive a business card, take a moment to read it. Write on the card, in front of the person who handed it to you. It could be anything, such as where you met them. Showing how you appreciate this opportunity to do business can give the person who handed you the card the feeling that you can be trusted.
"Business cards will outlast printed newspapers. For most businesses, it still makes sense to have a business card to hand over to existing customer and new prospects," says Mr. Fayloga. "Such little attention is paid to business card marketing that, when done right, it can help you succeed over your competitors. In a tough economy, it is the little things that will you help stand out, sometimes as little as 2-by-3.5inches."
Egency is a new generation web-2-print service providing customizable marketing solutions. Designers from across the United States create each individual design to represent a variety of styles and tastes. Most business cards also include matching designs for postcards and flyers, making for a complete marketing kit for any professional. Egency, is based in Thousand Oaks, Calif. For more information, contact Egency Marketing at (805) 277-6790 or marketing@egency.com.