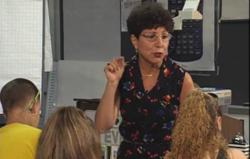 The paper offers strategies for addressing these challenges, and directs readers to innovative resources that have been proven to help solve them
Salt Lake City, UT (PRWEB) March 19, 2012
A new white paper offering solutions to new classroom management challenges in schools has been released this week by the professional development experts at School Improvement Network.
The paper, titled "Solving Your Classroom Management Challenges," draws from extensive research and School Improvement Network's decades of experience training teachers to be better classroom managers. It takes a unique look at the problems in contemporary American classrooms, and offers solutions for teachers struggling to manage them.
"The last decade has been a time of explosive change for our schools," says Curtis Linton, vice president, and head of production at School Improvement Network. "The biggest change, perhaps, has been in the type of students entering the classroom. Our kids are now "digital natives": they've been raised on things like YouTube, Google, Facebook, and even mobile connectivity. The majority of them have never known a world without these things. This is causing, and will continue to cause a big shakeup in the atmosphere of the traditional classroom. Many of the classroom management strategies that have worked in the past are not going to have nearly as strong an impact on the rising generation."
The white paper "Solving Classroom Management Challenges" explores the growing challenges surrounding classroom management, and the societal developments that are driving it. It pinpoints diverse classrooms, the rise of the so-called "digital native," and unprecedented, rapid shifts in culture as three of the principle problems that are making it difficult for educators to properly manage the contemporary classroom. The paper offers strategies for addressing these challenges, and directs readers to innovative resources that have been proven to help solve them.
To download the whitepaper "Solving Classroom Management Challenges," click here.
To learn more about PD developer School Improvement Network, or to sign up for a free 30-day trial of PD 360, the company's leading professional development platform, click here.