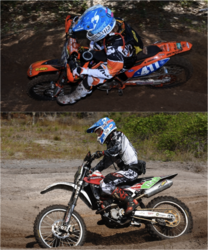 Motorcycle-Superstore.com is proud to be represented by such solid, professional riders. We'll be cheering them on throughout the series.
Medford, OR (PRWEB) March 17, 2012
Round One of the 2012 season of the Can-Am GNCC was hard-fought over miles of very demanding terrain. The Moose Racing Westgate River Ranch GNCC in Florida proved challenging for all involved, and definitely took its toll on riders in every class. The Motorcycle-Superstore.com sponsored GNCC riders, Glenn Kearney, Maria Forsberg and Jason Thomas started the season strong with impressive rides and commendable finishes in this round one cross country race.
Maria Forsberg out of Seattle, WA took first place in the women's pro class with a very solid, consistent ride on her Red Bull Factory KTM, finishing 6th overall. Glenn Kearney finished on the podium in third place in the XC2 Pro Lites class, with his teammate on the Fred Andrews Husqvarna GNCC team, Jason Thomas, close behind. Thomas finished fourth in the XC2 Pro Lites class.
"Motorcycle-Superstore.com would like to congratulate all of our sponsored off-road racers on a very strong start to the GNCC season," said Tim Clark, Motorcycle-Superstore.com's Sports Marketing Director. "We're proud to be represented by such solid, professional riders. We'll be cheering them on throughout the series."
Round two of the Can-Am Grand National Cross Country Series will be heading to Washington, GA for the Maxxis General GNCC on March 17th-18th. For more information about the Can-Am GNCC and round two in Washington, GA, visit http://www.gnccracing.com.
About Motorcycle-Superstore.com:
Motorcycle-Superstore.com is the leading online retailer in the motorcycle and powersports industry. Serving motorcycle riders for over 12 years, Motorcycle-Superstore.com specializes in selling motorcycle and powersports helmets, riding apparel, accessories and parts at the lowest prices possible. Internet Retailer magazine has ranked Motorcycle Superstore in the top 10 of all sporting goods sites and in the top 200 of all e-commerce sites. Powered by a dedicated staff of motorcycle enthusiasts, Motorcycle-Superstore.com continues to impress customers by constantly raising its online shopping standards. Visit http://www.motorcycle-superstore.com.