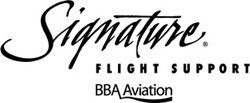 Orlando, FL (PRWEB) March 19, 2012
The National Car Rental brand and Signature Flight Support have entered into a multi-year agreement commencing April 1, 2012 to supply rental car and ground transportation solutions for Signature's global network of fixed base operations (FBO). The National Car Rental process will provide customers with an expedited pick-up and drop off process, saving time and paperwork for both the customer and Signature's operations staff. Customers who join National Car Rental's Emerald Club will have the advantages of Drop & Go Service, loyalty rewards including free rental days, and when flying commercially, the customer can bypass the rental counter and choose their car from the available inventory at participating locations.
"The partnership between National Car Rental and Signature Flight Support aligns two organizations that share a commitment to providing world-class service and exceeding customers' expectations," said Andy Taylor, CEO and Chairman of Enterprise Holdings, which owns and operates National Car Rental along with the Enterprise Rent-A-Car and Alamo Rent A Car brands. "With a focus on delivering premium service to frequent airport travelers, National is perfectly suited to serve Signature's unique customer base, and we look forward to doing so in the years to come."
"Signature Flight Support is committed to providing our customers, both crew and passengers, with world-class service at every location and for every need. National Car Rental's and Enterprise Enterprise Rent-A-Car's rankings in service, quality, availability and value match our Signature Service Promise," stated S. Michael Scheeringa, President, Signature Flight Support, "Our customers are our first consideration when choosing partners to provide services at our locations. National Car Rental's ability to provide a world-class ground transportation solution for our customers on a global basis drove our decision."
Signature's customers are encouraged to enroll in National's Emerald Club program and those that do so by April 30, 2012 will receive a one year, complimentary upgrade to Emerald Club Executive Status. For those interested in taking advantage of the benefits offered by National's Emerald Club, enrollment is free and can be done by visiting http://www.nationalcar.com/signature. When traveling in Europe, Signature customers will be serviced by the Enterprise Rent-A-Car brand.
Signature Flight Support Corporation, a BBA Aviation plc company, is the world's largest fixed-base operation (FBO) and distribution network for business aviation services. Signature services include fueling, hangar and office rentals, ground handling, maintenance and a wide range of crew and passenger amenities at strategic domestic and international locations. Headquartered in Orlando, Florida, Signature currently operates at more than 100 locations in the United States, Europe, South America, Africa and Asia. For more information, please visit: http://www.signatureflight.com.
BBA Aviation plc is a leading global aviation support and aftermarket services provider with market-leading businesses and attractive growth opportunities. BBA Aviation's Flight Support businesses (Signature Flight Support and ASIG) are focused on the refuelling and ground handling of business and commercial aviation aircraft. Its Aftermarket Services and Systems businesses (Dallas Airmotive, Premier Turbines, H+S Aviation, International Turbine Service, Barrett Turbine Engine Company, International Governor Services, Ontic and APPH) are focused on the repair and overhaul of jet engines and the manufacture and service of aerospace sub-systems and components. For more information, please visit http://www.bbaaviation.com.