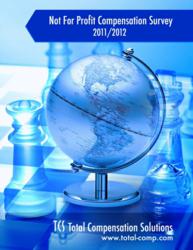 This increase is significantly higher that we have seen over that last two study cycles...
Armonk, NY (PRWEB) March 20, 2012
Not-For-Profit base pay increased by an overall average of 8.4% compared to last Year according to a new study published by Total Compensation Solutions (TCS). "This increase is significantly higher that we have seen over that last two study cycles 2008 to 2009 and 2009 to 2010" says study project manager Tom Bailey. "The increases for the previous two study cycles reflected the severity of the economic recession with marginal increases of 2.4% and 1.5% respectively."
The not-for-profit sector was hit particularly hard during the recession. Many organizations saw their funding cut or dry up all together. These increases are hopefully a good indicator that the economy is improving and that not-for-profits are seeing their funding restored. "These organizations provide essential services to communities across the country and this may be the start of an encouraging trend" says Bailey.
The 2011/2012 Not For Profit Compensation Survey is the 9th edition of Total Compensation Solutions' not-for-profit survey. The survey reports compensation data for 72 positions from 678 organizations in the not-for-profit sector. The survey reports data for: five geographic regions; five not-for-profit industry types; and by five operating budget groups. Data is displayed by average; 25th, 50th & 75th percentiles; and includes bonus information as well as salary range information.
Information on personnel policies and practices is also reported with topics such as: annual salary budgets; the cost of health & welfare benefits; paid time-off policies (PTO); and the value of retirement benefits.
Copies of the 2011 / 2012 Not For Profit Compensation Survey are available from TCS (http://www.Total-comp.com). If you have questions regarding this report, please call TCS at (914) 730-7300 or email questions to: Tom Bailey tbailey(at)total-comp(dot)com.
Total Compensation Solutions is an independent human resources consulting firm dedicated to assisting clients in achieving their strategic compensation objectives. The firm uses market data to identify best practices in a variety of topical areas including: board compensation; executive, middle management and staff compensation; performance management; organization structure; health and welfare; and retirement benefits. From offices in Armonk, NY, TCS gathers and reports information on compensation, personnel practices and benefits and applies the most effective, market-driven solution to each organization's unique set of circumstances. For more information on TCS, visit http://www.total-comp.com or contact us at:
Total Compensation Solutions
200 Business Park Drive
Armonk, NY 10504
Phone: (914) 730 – 7300
Fax: (914) 730 – 7303