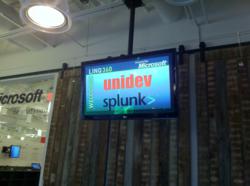 (PRWEB) March 19, 2012
This month Unified Development, Inc. (Unidev) teams up with global machine data partner Splunk to highlight the challenges "big data" brings to modern businesses in the latest event of the TXCHANGE thought-leadership series. Unidev and its web marketing division The Net Impact hosted the Splunk demonstration at the LINQ360 Innovation Center in Las Vegas, Nevada on March 8th 2012. This program will also be brought to St. Louis, MO, on March 27th for another free TXCHANGE event with Splunk at the Unidev Headquarters.
Fred Wilmot, Sales Engineer at Splunk, presented at the Las Vegas event earlier this month. In his presentation Wilmot described how the pervasiveness of information in modern organizations has made big data a concern for all.
"What 'big data' really means is that it's more stuff than you know how to deal with," said Wilmot during his presentation. He emphasized that the need to gain operational intelligence from data is relevant to organizations of all sizes; from system administrators to chief executives. "It could be 500 gigabytes, 500 terabytes, it could be petabytes, it could be exabytes. It doesn't matter."
On March 27th David Maislin, a Midwest-based Splunk Sales Engineer, will present additional data management insights; this time, to the St. Louis community at the Unidev Offices in Chesterfield, MO.
"Splunk is one of those disruptive technologies you just have to see to believe," said Unidev Vice President Steve Thomas. "These in-person demonstrations are so essential because you see massive amounts of data searched in real-time and fed into easy to understand dashboards right before your eyes."
The upcoming Splunk TXCHANGE Happy Hour takes place on Tuesday, March 27th, 2012 at the Unidev and The Net Impact corporate headquarters starting at 5:30pm. For more information or to register for this event, please visit the Splunk St. Louis event page.
About Unidev®
Unified Development, Inc. (Unidev) is a diversified IT company focused on the application of technology to business. Specializing in custom software development and mobile development, Unidev creates proven, reliable and cost-effective solutions for our clients. With offices in both St. Louis and Las Vegas, Unidev provides productivity applications, custom software development and technology consulting services to both business and government. For more information on Unidev, please visit http://www.unidev.com, or call (636) 458-7772.
About Splunk®
Splunk® Inc. provides the engine for machine data™. Splunk software collects, indexes and harnesses the massive machine data continuously generated by the websites, applications, servers, networks and mobile devices that power business. Splunk software enables organizations to monitor, search, analyze, visualize and act on massive streams of real-time and historical machine data. More than 3,300 enterprises, universities, government agencies and service providers in more than 75 countries use Splunk Enterprise to gain operational intelligence that deepens business understanding, improves service and uptime, reduces cost and mitigates cyber-security risk. To learn more please visit http://www.splunk.com/company.