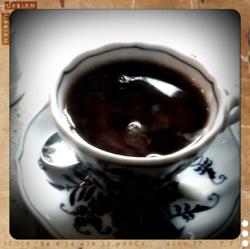 Instant Gratification is made more accessible via new technology.
Barcelona, Spain (PRWEB) March 18, 2012
HyperOptik Creative will exhibit the work of four photographers at Galeria aDa in Barcelona, Spain from April 11 - April 29, 2012. The opening reception is Thursday April 12, 2012 at 19:30 hrs. The show is entitled "Instant Gratification" and presents the photography of Kuba Markiewicz, Julius Schon, D3V4N, and Debbie T. Davies. The exhibition consists of a variety of photography styles including images taken via cell phone cameras utilizing software like Hipstamatic. The underlying theme of the exhibit is gratification - the things that bring us joy and pleasure. The show will be an evolving work. The opening reception will not only be a celebration of the work that has been completed and displayed; it will also be a hunting ground for the photographers to shoot additional photos of visitors. Images will include photography from the streets of Brooklyn, Barcelona, and Germany. The artists will continue to add to the exhibit during the days after the opening, so it will be a growing display of work shot and printed immediately. Aside from images of the various cities where the photographers live, there are photos of the residents of those cities, enjoying their lives. Simply or decadently.
Photographer Julius Schon is exhibiting photos shot on a smart phone using Retro Camera Plus software. A former resident of Barcelona, he returns now with images from his new home in Villingen, Germany.
Pinhole photographer Kuba Markiewicz is exhibiting work shot on his smart phone using Vignette, and traditional pinhole photography. Kuba lives in Raval, Barcelona and operates the Hole in Barcelona, an ongoing pinhole photography workshop.
D3V4N is exhibiting his cell phone photos shot with Instagram featuring the New York teen lifestyle juxtapozed against Barcelona teens.
Visual Artist Debbie T. Davies returns to Galeria aDa now with her Hipstamatic photos shot in Brooklyn. She exhibited her video art and microscope photography here a year ago - The I Love You Project. This new project is similar in it's effort to capture candor and diversity.
The artists' biographies appear on the HyperOptik Creative website http://www.hyperoptik.net.
What attracted these artists to this digital technology is the lack of control one has over the resulting image, and the immediacy of being able to share them. It will be interesting to see resulting photographs taken by all four photographers in Barcelona, sometimes of the same subject or location in the city; and how their different perspectives on gratification show up in the photos. Barcelona is an apt location to exhibit this work, as the tempo of the city and the hedonist late night lifestyle satisfies those who seek Instant Gratification.