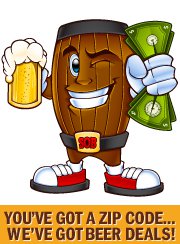 Houston, Texas (PRWEB) March 26, 2012
College basketball fans want the best beer for the lowest possible price. Nothing is worse than paying full price stocking up on beer for all one's friends – only to find that the beer was substantially cheaper somewhere else.
This year, March Madness party hosts can find massive quantities of the best beer for less with SaveOnBrew.com's new cheap beer locator, available online at the mobile-friendly http://www.saveonbrew.com.
"Beer is an essential ingredient to any March Madness party," explains SaveOnBrew's Greg Thibodeaux. "It's as much a timeless tradition as war-paint, foam fingers and vuvuzelas. We were tired of seeing college students charged Donald Trump prices, so we started digging through sale ads and helping our friends."
Before Thibodeaux and his peers realized, their cheap beer empire had really taken off -- with prices listed from coast to coast, for everything from Labatt to Blue Moon, with new brands and stores added every single day. In addition to the nationwide beer deal list, the SaveOnBrew crew also launched a cheap beer blog that features humorous posts about the never-ending quest for better deals mainly geared toward the college crowd.
"We believe in drinking responsibly," explains Greg Thibodeaux, "which is why we drink at home or at a friend's house where we can crash on the floor, if need be. That's why our beer locator focuses on local supermarkets, drug stores, liquor stores and convenience marts you can walk to."
He adds, "You can also find more than three hundred beer drinking games accessible from the site or your smart phone. For March Madness specifically, there are many games – like drinking whenever you hear the announcers use the phrase 'the paint' or when a player flies out of bounds to keep the ball in play. You can drink for every technical foul, every time the coach utters a visible swear word, or whenever you hear a song from the 'Jock Jams' compilation play. There is much cause for celebration during March Madness season and we're glad we can help you have more fun than ever before, without spending your entire college tuition on beer."
People who are interested in finding the best advertised deals on beer should visit SaveOnBrew.com, click "Start Saving Now," type in their zip code and hit "Beer Me" to get a list of advertised beer deals in their area. The results can then be filtered by brand, store, beer type, size or quantity. Let the March Madness begin!